Perspective: Get Used To It Or Make It Fair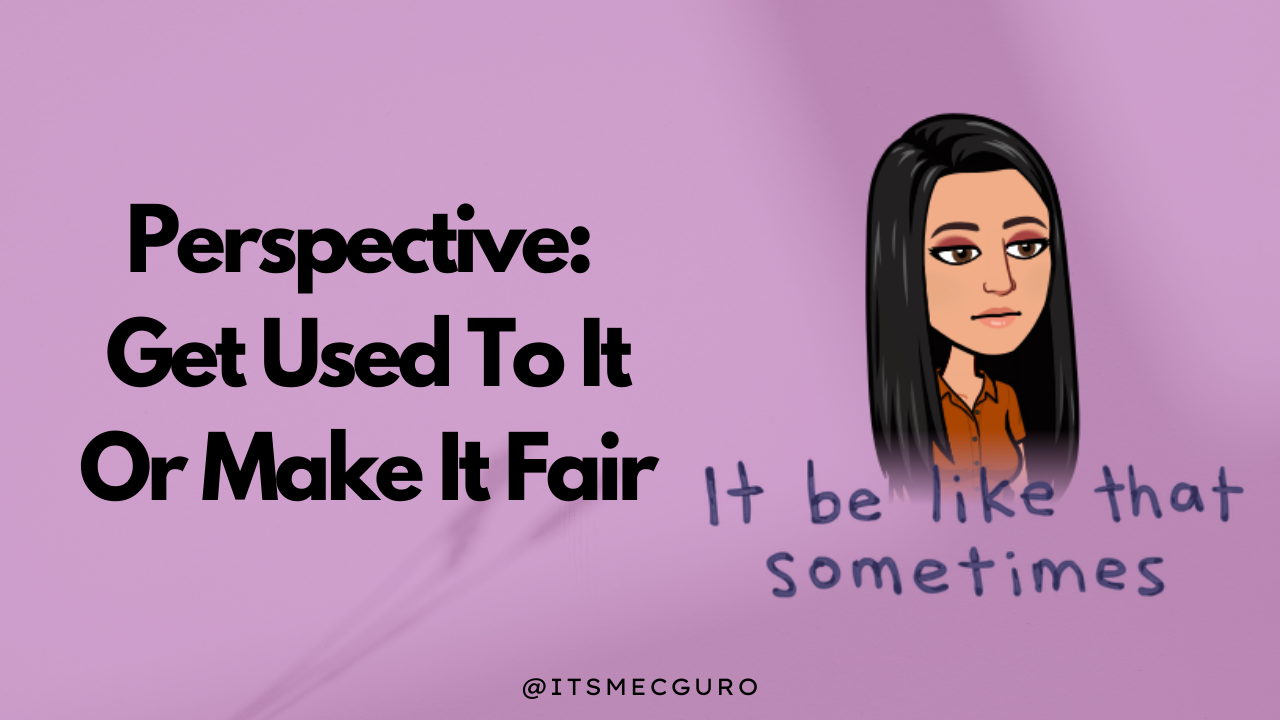 Life isn't fair and expect the worse. That's what my cousin told her daughter when I overheard their conversation. My niece replied, 'But we can make it fair, right? Then it could be better.'
They have two opposing perspectives and I must say I believe in each but it depends on the circumstance I am experiencing. When I experience something good therefore I say, Wow! I am living the best life, then when something bad happens, I'll switch to Life is so unfair!
I don't know about you but when I was a kid, I was taught that life consists of everything good and fair. I should be honest, and nice, and generous, and polite. I should respect the elders. I should show compassion. I must share what I have with those who are in need or else I'm selfish. I should help whenever there's a chance to help. The world offers kindness and perfection. Maybe that's why I myself has this kind of trait, being perfectionist in some sort.
There are also times when I was being presented that life is unfair and ugly - knowing the story of villains in movies and books, the crimes, the injustices taught me this.
Life is not fair in a million ways. We can state a lot of examples why life is unfair for you, for me, and for them but I believe there's a chance for it to be fair.
I love watching crime stories. When my mom and dad permit me to go outside and play, I either read books or watch crime stories because my father likes to watch them too. Until now, I still watch documentaries and crime stories, either solved or unresolved. Analyzing each story, I realized life isn't fair. A family that was just taking a vacation then the next day their kid was abducted. It was cruel. But here's the thing, they worked really hard after those experiences - to get the laws enacted, to solve the mysteries, to make life fair for others even for them it is not. In these circumstances, I believe there's a chance for it to be fair. There are people who are willing to make it fair for all of us, isn't it nice?
Life isn't fair because people make it so, do you agree? If people can make it unfair, we can also do the opposite. Even if at times I do think life is unfair, what are you going to do about it? Would you just utter the words 'get used to it' or you'll make it fair?
We are people, we are able to make it fair, so be it. Let's do our best.
Hold on to that childhood belief that life can be better even if it looks bad right now. I hope the world will continue to be as good as my niece believes it to be.
---
Special thanks to @Jento , my new sponsor 💖✨ I appreciate it!
---
July 6, 2022