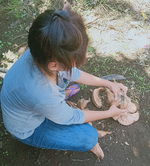 Good day everyone, how was your day..?
Lately my mind was stock so that I can't published any article here can't be active.. I have lot of things to do in my life to be more focus.. I hope you all doing well today..
I have a great day today so I want to make an article now. I want to share some thoughts of you that I have learned in my life.
I am an introvert person, since when I was a kid I want to be alone, I am happy to be with myself. I have few friends but the truth is I dont know if I have one friend or true friend back then.But I don't care I can live without friends because I only knew then my siblings are my truly friends. I am a typical shy girl back then afraid of crowded people, afraid to interact others except my family. Maybe my safe place was our home when I am at home I expressed more myself then the truth the introvert person like me was talkative in their own way. We are more sweet and caring for our love ones or very close to us.
Other people look at me like a weird one a nerdy girl who always took a book or notebook and silently listen to my old mp3 player then sitting alone with no one can disturb me but I am happy with that. I don't care about other people what's their doing or thingking about me. When I was in high school I am a very shy girl then I have a classmate that she was 3years older than my age she told me that one day I will gonna change. That from being a shy girl to a talkative and perfectly one. Back then I don't know what she's talking about maybe because I was young then I can't imagine my life to change at all. After graduation in highschool my parents did not send me to college because of financial problem then I suggest to have a job in manila even though they did not completely approved my desicion but I was surely I want to help my family.
So I had a job,after 1 year I came home to visit my family all of my cousins was so amazed to me because at the age of 17 I have a job and at the manila. In our province "Manila" was a famous place to us, so when I got home my neighboorhood and relatives was so proud of me because I reached "Manila". Then one thing that they observe about me was I am not a shy girl I am more talkative and more attentive of what I am doing. They said that I am changed, but I'll told them that maybe the atmosphere there in manila changed me. But I told my mind that as long as my attitude was right and my actions I am not change maybe I changed the way I interact with other people, I cant no longer a girl before that always look at the ground when somebody was talking to me. I am changed for myself because introvert person can be more productive with their own way. As long as you are happy.
For me now sometimes I miss my life before highschool life a shy girl my center of my world was my family. But you can't stock with that situation if I have regrets in mylife was I am not practical back then, if I could turn back time maybe I will be more practical I will make sure that before I'll settle down I have a better life ,a better job. But that's life you are the one who make your own destiny. Now I will surely make my own destiny together with mylab and my children I will make sure to be a good mother to my children.
Life is beautiful when you have a happiness in your heart. If all of your problems solve ot with a smile, when your tears turn to a happy moments. Live your life to the fullest as long as you are happy be with yourself always..dont regret anything because you deserve all to be happy.
Loving yourself is not a bad thing to do, because if you don't love yourself first how can you love someone if you don't know how to love yourself completely.
Sponsors of ibelieveistorya
How are you my dearest sponsors,thank you all so much for making me more inspired everyday..godbless you always..
Thank you for reading...
Don't forget to like subscribe,comment to my article..good evening everyone.
Date Published

November 11,2021

@ibelieveistorya