K Fry Urban Korean Creamy onion soonsal chicken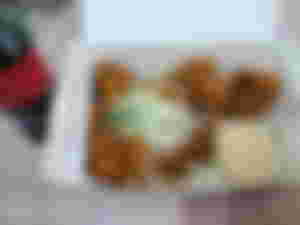 Today for dinner, I order food delivery from K Fry Urban Korean, a Korean restaurant located at the KL East Mall.
I order one set of Creamy onion soonsal chicken, inside contains 6 pieces of boneless chicken top with onions slices and creamy onion sauce. It cost RM26.28 with delivery fee, but lucky with the promo code I only pay RM13.59 for it. Currently, there is a promotion if you order at least RM20 worth of food, they will give you a small bottle of coke zero for free.
For those who wonder what soonsal means, it means boneless in Korean. For me the chicken meat portions are considered a lot, my tummy feels full despite only eating this without rice. If you are not heavy eater, just order this chicken alone without any rice.