Reality Is Bitter But If You Are Grateful It Will Feel Beautiful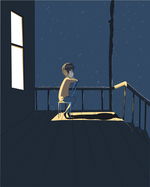 Seeing something different between us and others makes the spirit of life weak. Strengths and weaknesses often become problems and burdens in life, contributions to work seem lost in time, intelligence is no longer the basis for building the future because of mental collapse due to inner turmoil. Fighting insecurity is the main reason for survival.
Have you ever looked in the mirror? and see your face is not beautiful or ugly or see your small and not ideal body posture and when you see other people who are not like you, have a handsome or beautiful face and other advantages they have of course you will feel inferior and feel left out . social paralysis drowns out low self-esteem, like water falling from a high cliff.
"why i was born ugly?..i'm shy and i have to go..why i was born with a short body?...no one likes me, everyone insults... it's better for mom not to give birth to me.. just make me suffer. .I can't have a partner, I live alone.." maybe this is a sentence that comes from the bottom of heart as a complaint with the reality that must be faced. Other people's judgments make us fall as if we can't stand up, life becomes depressed, home and room is a place to stay.
Why are we not aware?
when we are in the womb, God has determined a path and a life to be a pioneer for the future, but the judgment of sight destroys the most beautiful gift we have. Physical differences are not a reason to feel inferior, don't blame your parents, let alone the creator. We only live once in this world, what's the point of complaining?
Walk around the area and you will get the answer. I have a simple illustration and I hope it will make us all aware.
"When you walk and see someone who has only one arm while you have a complete arm...do you realise?......You keep walking and you see someone walking with a cane and sunglasses, and you see how much it looks like he has difficulty walking because he is blind and you see you have two working eyes and can see ..... you keep walking and you see someone sitting in a wheelchair, how difficult it is for him to move the wheel moving and you see yourself with legs that are work... you keep walking and you see a person on the side of the road with folded legs and asking for alms when you approach him and see how hard it is for him to stand because he has no legs he can't talk and can't see because he's blind... you say in your heart how difficult it is for him to live life.. I have legs, eyes and mouth that are intact while he doesn't, ask for simple food, whereas a have lots of food.." When he walked and came home, he was crying and he realized that all this time God was good for him.
Is there still a reason for us not to realize and be grateful?