Little by Little
Hey, hey, hey!
First of all, I would like to ask how are you guys. It's been a while! Being a hands-on momma to my children is very challenging indeed, especially these days.
In the past month that I'm away from here, a lot of things went on for me and my kids. I won't state some of those 'happenings' since it is kinda irrelevant already.
I took care of my kids alone for almost a month because my husband was deployed from another out-of-town/ city branch of their store to another. This is the main reason that made me busier than ever.
I remember, I still haven't finished my draft of the continuation of my last article about Try and Review, please bear with me. Hopefully, I can catch up since classes will be over soon.
Nevertheless, for us to develop and be in a better place from where we are being placed, we should always take a little step, right? And sometimes we overlooked to acknowledge that we already progressed not just a tiny step but plenty of steps already standing from where we are today.
And to tell you, presently, I am in awe to know that I am about to witness once again one of the early phases of my childhood, in the sight of my kids.
As the school year is near its end, we were informed that the kids will be having their moving-up ceremonies next month.
Yes, classes will be over just a few weeks from now.
This means, that my children are indeed growing so fast. It is just so fulfilling to see that they outgrew their bed because of their sudden growth as a preschooler and an elementary pupil.
My daycare son is going to be a pre-kinder pupil on the opening of classes soon, while my Kindergarten son is going to be a Grade 1 pupil, an official elementary pupil.
As the events are coming so fast, I am becoming busier too, busy with meetings, and left and right practices from their distinctive advisers.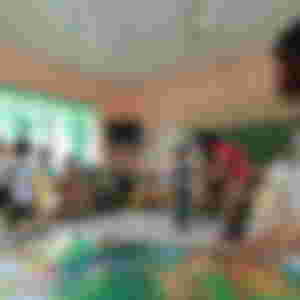 Here's my secondborn during his practice of receiving a certificate.
I'm very excited to see them real on stage sooner.
While my eldest's hasn't started their practice yet but we were already instructed that our presence is needed for the practice because we will accompany our child on the stage.
It's just nice to witness their small accomplishments being schoolers, and I know someday they will rejoice and look back on these little steps they made.
It may just be a simple and a tiny portion of every parent's happiness, but seeing their children prosper and make it through their school even at a very young age is something proud of. And little by little they will establish their dreams and make them come true depending on their perseverance as they get older. And of course, I will be forever here to support them as long as they're on the good.
I know they won't be that little for too long because time is just so quick, they might not fit on my hugs soon, but they will always be my little boys.
Thanks for reading this simple and quick writing I have for you today. I am still blessed to be here after all the various occurrences this platform has been through.
I just want you all to know that I am very grateful for your time and presence. Love lots. ❤️
Regards, @eommaZel
---