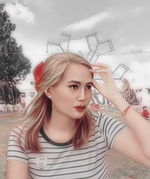 I was tagged with some articles about certain writing prompts weeks before by my fellow authors, and due to busyness in family life, I failed to join. And this time, I wanted to participate while I still have time.
Questions, that's what @JonicaBradley posted this writing prompt two days ago, and honestly, I certainly don't know what to write. I do have a lot of questions in my head, about my life, my surroundings, and the people around me. Then, I suddenly came up with the simplest question that I am longing to hear from someone.
Let me ask you first, how are you today? Am I sounding too caring and sweet?
Believe it or not, that's the question that I am longing to hear for so long.
The most common question you could ask a person. And to be honest, I'm wanting to hear it and I miss the feeling of listening to this question being asked to me.
If we talked about it virtually, I have some good friends still asking me about it. I feel flattered whenever I received such concern. But still, it isn't enough, my heart is still yearning to hear it from the people I care for.
Truthfully speaking, I can hardly remember when was the last time I was asked if how am I. I rarely hear of this question at home, no one asks me if how's my day going, if how am I feeling.
Am I too overreacting? Am I asking something big and ridiculous, if all I wanted to listen to is the voice of the people that they truly care for me, that I and my feelings matter too?
Me, I may not always ask them, yet I am finding ways just to check if they're fine and okay. I know, I don't have to justify things, but is it really hard to ask?
You always see me cheerful, enthusiastic, and jolly most of the time, yet just like you, I have feelings too. I'm not a robot anyway. At times, I'll be tired and overworked my body, feel sick, and get drained but no one truly cares simply because I am only a plain housewife.
And they live only with the perception of a housewife that it's our, the mothers/wives' responsibility and obligation in everything inside and outside the house and the family. The laundry, the cooking, the kitchen sink, the bedroom, and every corner of the house.
No, I'm not complaining or disagreeing about it, but we, the wives/mothers just need a little consideration and support too. That we indeed must keep and attend to the family but it doesn't mean that we deserved to be ignored. Even a tiny appreciation will make our hearts full of love and respect.
Though it may sound like I am ranting but it's entirely not. I'm just pouring out my heavy feeling after a long and tiring day. And to tell you frankly, I feel like there's a needle that's pricking my heart while I am writing this. The feeling is hard, and I am about to break. But I can't, and I need to withstand this feeling, simply because I have to.
Maybe this feeling will remain unfolded and untold. And they will only know about it if ever they could read it here. I have no guts to say it because I am afraid to be ignored, again.
That simple question indeed matters to me. Since I'm stuck at home shouldering vast responsibilities, even this simple question would make my day. It's a great feeling knowing that the people you're concerned about are also minding for you too.
So if you truly care for someone even a simple question like how are you, is already huge to make them feel that you truly care. Appreciating and being attentive to them isn't that hard right?
Never hesitate to ask someone, you might never know it but this simple question would make their day.
---
Written by: