A Sweet Comeback!
October 7, 2022
Friday

"Long-time no see, but now, see now!"
Have you heard of this? Well, this is just an old expression we used to say every time we met or came across an old friend during high school. And now, this expression best suits me presently. Oh! It's finally nice to be back, and this is for real.

I am already away from here for a month, been missing lots of opportunities and updates as well. It's truly giving me guilt, however, everything has its reasons.

While I am away, my family and I were struck by strong flu, first was my second born, and the next was me and my eldest, which made us sick for almost two weeks. This made me weak and my body find it hard to cope with recovering. So before I decided to go back online, I made sure that my body is fully ready for the things I wanted to do especially the screen time.
Aside from those, I was busy with attending meetings and the school duties of my kiddos.

However, this shouldn't stop me from coming back and continuing, so I am here again. I will try my very best to give myself enough time even if I should do it twice by multitasking. You know, I just cannot leave read.cash, I've been here for years and this site witnessed how I started from zero until I reached my goals and went down again, lol.

But despite the lapses I made, I just learned my lesson that our actions and decisions make a big impact on what consequences we will face.
So, if my absence would make Rusty or @TheRandomRewarder ignore me, no hard feelings, because of this long absence of mine, that would be acceptable. All I have to do is to cope and do my best to fill my lapses here and on noise.cash as well.

Together with my coming back in noise, something came back from the past too, which made my heart grateful and happy.

Last January, as far as I remember, my free tips were gone, without any clear reasons, because at those times, I was still very active both here and noise. But instead of complaining, I accepted it and just go on with the flow and moved on.
Months passed, and my time was slowly getting shorter and shorter, making me inactive for a couple of days.

I was busy with doing school and other paperwork for my father who's a teacher. But now, my free tips are back, and this happening gave me the enthusiasm in going back. I was motivated again to go online and share some stuff that I used to love and used to do.

It seems like, I was being acknowledged again as if I was welcomed back sweetly by noise.cash, saying,
"Hey, @eommaZel! Where have you been?" 

Was it an early Christmas gift? Hopefully, it would continue, and for It to continue, I will do my work well.

Aside from that, just today, though I was late, I made an account on noise.app with the help of this beautiful girl, @Kelzy dear. You can follow me there, let's be friends!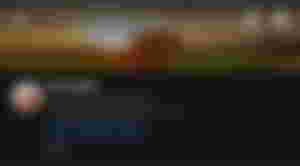 This is probably a sweet welcome back for me, though I missed a lot, and I can't turn back the time. All I need is to face what the present is offering and giving me as of the moment, and make the right decisions and actions as well.

I hope, Rusty the bot would still recognize me, if not now, hopefully soon again.

That's it for today, I miss you guys!

See you soonest again.
Written by: @eommaZel 🥀
---