A Random Topic: School Meetings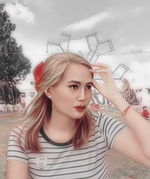 I am feeling so happy that my coming back here was so delightful, for just a couple of days, it seems a lot of things happened positively. Aside from my free tips on noise. cash coming back, I am also happy to see that Mr. Rusty didn't forget me despite my long absence, also, without my knowledge, I received tips from a random tipper on noise.app despite me being a newbie there for days.

And now, while I still have a topic in my head, I won't let this chance slip away. To be honest, it's just a random topic that popped into my head suddenly.

When I was still young mostly during elementary days, I still remember the moment my classmates and I rejoiced, when our teacher announced that we will be having no class on a certain date because there will be a meeting with the school and the teachers.
But of course, since we were still kids, the ones who will attend the meetings were our parents or any guardian available.

School meetings, during those moments, though I am happy for having no class, a part of me was a bit worried, because, I knew in myself that no one will attend the meetings for me. Since my father and mother got separated, no one in my family attends the meetings in school anymore because my father was so busy at school as he is a teacher.

However, I am grateful that my teachers were very understanding of my situation, so I was exempted from those days. And sometimes, I found out someone already signed the attendance for my parent's signature. I don't have any idea who signed there before, maybe my teacher or some friends of my father. 🙂

And now, as I am a parent of two schoolboys, the meetings I used to love and be cheerful about, are one of my hated events at school presently.
Honestly, I hate to attend meetings since some of my schedules at home are so complicated. My daycare student's schedule for school is every Wednesday and Thursday, 10:00 am to 12 noon, while my eldest who's kindergarten schedule is every Monday to Thursday, 1:00 pm up to 3:30 pm.

And as far as I remember, I already attended four meetings since their classes started last August.
Frankly, before I attend a meeting, sometimes, a part of me wants to just be absent because no one will look after my 3-year-old toddler, and meetings at school are kind of boring especially for kids. But I don't want to give my kids and myself a hard time since attending meetings is a must.
So I attended the meetings bringing with me my 3-year-old kid and leaving my 5-year-old son at home and asking my uncle to just peek at him from time to time until we are back.
Usually, the meetings lasted for 2-3 hours.

Important announcements and programs are often discussed during the meetings, so I don't want to skip knowing the agendas the teachers or the school would like to inform us, parents.

But then, there's this meeting with the class adviser that I hate, the nomination of homeroom officers. Never during my school days, did I become an officer, I always refused my classmates who will nominate me. Honestly, I hate to be a leader because I lack confidence during those times, that's why I hate some huge responsibilities too, I am afraid I couldn't handle them rightfully.

The last time I attended a meeting at the kindergarten, I, fortunately, escaped being elected. During the nomination, when the parents are looking for someone to appoint in a certain position, one of my co-parents was about to nominate me, however, I gave them a reason that I couldn't do the responsibility and focus on it because I still have a daycare student who was with me during the meeting too, so my time is always occupied because I am the only one left at home looking after the kids.

They all agreed with me so I was saved in the election. But, my fate at the daycare was a bit different. When we had the nomination for the officers, I was appointed as assistant secretary, they wanted to make me the secretary but I refused but the teacher insisted and some of my co-parents too to just make me the assistant secretary instead.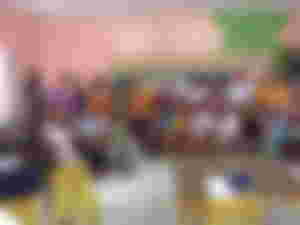 Attached was our photo during the meeting, and though I hate to be included, I have no choice but to just accept it.

As of now, there's nothing different about being elected as an officer, luckily I am just an assistant that's why the responsibility isn't too much.

Nonetheless, now, I am not looking forward to another meeting, but I guess, that wouldn't be possible because I have two students already, lol.

How about you guys especially my co-mommies, do you like attending meetings?

That's it for today, hope you all have a great day.

Best regards, @eommaZel ✍🏻🥀
---