Instant Noodles with extra squid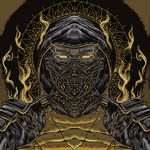 Hello guys, how are you all? May we all continue to be given protection and health from God. So, today I want to write about my experience of making instant noodles by mixing squid into the dish. Please read to the end.
Yesterday, my mother cooked squid for our lunch. So I asked mom "will the squid be all cooked?" then my mother replied, "yes, of course". So I asked mom to leave some squid for me to cook as an instant noodle mix tonight. My mother finally left some squid for me.
As we know that squid has a fishy aroma. To get rid of the fishy smell, I put some drop of lime on top of the squid that my mother had cleaned, then I put it in the refrigerator for me to cook tonight.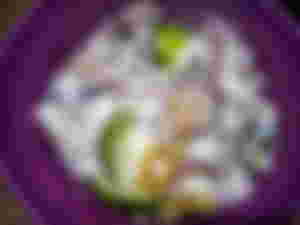 After nightfall, I went to a shop near the house. I bought a packet of instant noodles and an egg. The instant noodles I bought were delicious noodles with a spicy Korean taste. This is my favourite instant noodle for the noodle soup base.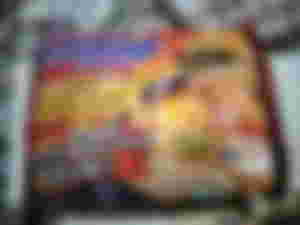 After arriving home, I immediately went to the kitchen to slice the onion, garlic, and leek (Allium porrum). This is the basic ingredient that I use most often to cook noodles or fried rice. Because these basic ingredients will make food delicious and also fragrant.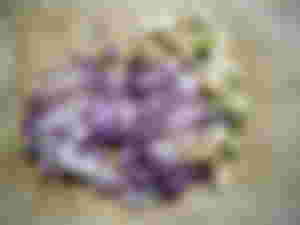 After everything was done I sliced, then I sauteed all the slices using a little sesame oil on low heat. after that I poured all the squid and stirred slowly. After that, I poured a glass of water into a pan containing squid and sliced onions. Then I raise the fire a little so that the water boils.
After the water in the pan boils, I add the instant noodles and wait for them to soften. to wait for the noodles to become soft, it takes about 10 minutes. After that, I mix the eggs, sauce, and soy sauce. I stir again for three minutes, then I turn off the stove fire.
After the fire in the stove went out, I poured all the powdered spices into the cooked instant noodle. Then stir until the powdered spices are evenly mixed, after everything is well mixed, then the instant noodles are poured into a bowl and ready to be served.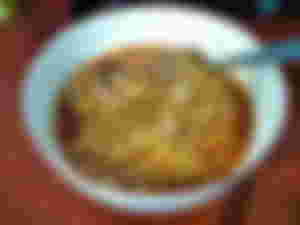 Apparently, mixing squid into instant noodles makes the noodle soup taste better. Plus the very soft and chewy texture of the noodles makes the tongue swaying. That was my experience of making instant noodles with squid. you guys have to try it guys. thank you.
Hello guys, thanks for reading, all the photos in this article are mine.
Sponsors of dark_spirit666