New Ukrainian Films on Netflix
While the russian war against Ukraine continues, it's hard to evaluate the cultural life, how it's going. Of course the war situation is especially bad for the cinema industry, but some films which were filmed before continue to be released. And what's good - I noticed the increased number of Ukrainian films on the Netflix. That's why I want to present them to my readers. And if you are going to watch them - please let me know your opinion.
I. Servant of the People (Featuring President Zelenskyy in the main role)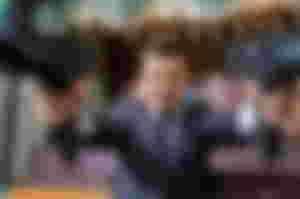 Link: https://www.netflix.com/title/80119382
That's the film that seriously influenced the election of 2019 and actually made Zelenskyy President. Who knows, if he would become one if not for this film?
I watched it only after the first round of elections when it was almost clear that Zelenskyy will win, in order to better understand what to expect. But of course, the full-scale war with russia was not predictable for me at that time. I didn't enjoy much the first season, I think 2nd and 3rd seasons are more interesting - as there is some political fight going on.
Instead of the trailer, I will leave this fragment (one of my favorite moments in the film), when he is drunk singing the famous Ukrainian song "Ni, ya ne tu kokhav" (No, I loved the wrong one...") when he was at the after-party with European politicians (you can see those 2 scared women there).
I remember back in 2019, 2020 I showed this clip some time to people and said - did you see how Zelenskyy celebrated his victory? Those who didn't watch the film - believed this is the real video footage. This example shows his talent as an actor. And this year we all faced his talent as Political Leader...
II. Rhino
Link: https://www.netflix.com/title/81516700
In 1990s Ukraine, a young man with a violent streak delves into the ruthless world of organized crime — until a tragic loss sends him on a new path. Starring: Serhii Filimonov, Evhen Chernykov, Yevhen Grygoriev Watch all you want. This crime drama, written and directed by Oleh Sentsov, received a Best Film Horizons nod at the Venice Film Festival.
Trailer:
Just to add: this year I met Rhino (not the main actor, whom I also met in the past), but the prototype of this story. He told me that 90-95% of what was in the film is true...
III. Winter on fire
Link: https://www.netflix.com/title/80031666
That's the first Ukrainian film on the Netflix. Winter on Fire: Ukraine's Fight for Freedom is a 2015 documentary film directed by Evgeny Afineevsky, written by Den Tolmor about the Euromaidan protests in Ukraine from 21 November 2013 to 23 February 2014.
Trailer:
IV. The wild fields
Link: https://www.netflix.com/title/81631727
The Wild Fields is a film based on Serhiy Zhadan's novel "Voroshylovhrad"
Trailer:
V. I work at the cemetery
Link: https://www.netflix.com/ua-en/title/81637632
That's a very new film which only recently was in the cinema in Ukraine. A cynical cemetery worker gets tangled up in his customer's tragedies — and a local criminal power struggle — as he grapples with his tumultuous past. Starring: Vitaliy Saliy, Wiktoria Gorodeckaja, Anna Ivanova
Trailer:
VI. My thoughts are silent
Link: https://www.netflix.com/title/81637637
A sound engineer sets out to record the audio of Ukrainian animals for a lucrative job, but his plans go awry when his mother decides to tag along. Starring: Andriy Lidagovskiy, Irma Vitovskaya, Iryna Verenych-Ostrovska
Trailer:
VII. Felix Austria
Link: https://www.netflix.com/title/81637641
Two women struggle to understand their role in each other's lives as love, jealousy, and a tragic past blur the lines of their relationship. Starring: Marianna Januszewicz, Alesya Romanova, Roman Lutskiy
Trailer:
VIII. The Guide
Link: https://www.netflix.com/title/80019452
In 1930s Ukraine, a young boy carrying sought-after political documents journeys through an unfamiliar land with the help of a blind folk musician. Starring: Anton Sviatoslav Greene, Stanislav Boklan, Aleksandr Kobzar
Trailer:
IX. Sniper the white raven
Link: https://www.netflix.com/title/81615166
A pacifist science teacher joins the military to protect his country from invading forces and avenge the death of his wife. Starring: Aldoshyn Pavlo, Maryna Koshkina, Andrey Mostrenko
Trailer:
X. Meeting of classmates
Link: https://www.netflix.com/title/81631726
That's funny film - kind of Ukrainian version of "Hangover". Three friends are determined to make it to their school reunion — but their journey takes some unexpected turns that may jeopardize their plans. Starring: Andrey Burym, Aleksey Nagrudnyy, Valery Kharchyshyn
XI. Amber cops
Link: https://www.netflix.com/title/81631725
Nice comedy. When a dedicated police officer gets transferred to a small town, he discovers a ruthless mafia determined to keep their grip on the community. Starring: Yevhenii Yanovych, Oleh Masyuk, Darya Petrozhitska
Trailer:
XII. Stars exchange
Link: https://www.netflix.com/title/81637639
Comedy. Two bitter rivals magically switch bodies and must help each other get their personal and family lives back on track in order to switch back. Starring: Olya Polyakova, Mykhailo Khoma, Dmytro Vivcharyuk
Trailer:
XIII. The Rising Hawk
Link: https://www.netflix.com/title/81637630
The Rising Hawk is a 2019 Ukrainian-American historical action film directed by John Wynn and co-directed by Akhtem Seitablayev. It is based on the historical fiction book Zakhar Berkut by Ukrainian writer and poet Ivan Franko. The film premiered on October 10, 2019. "Berkut" is the name for golden eagle, a type of hawk.
Trailer:
XIV. The stronghold
Link: https://www.netflix.com/watch/81637627
A solar eclipse activates a magic time portal, and a regular schoolboy Vit'ko from the 21st century goes a thousand years back in time. It doesn't take Vitya long to recognize the legendary bogatyrs in young Oleshko, powerful Ilya and severe Dobrynya. Their life passes in fighting cumans who try to destroy Rusichi at any cost, using both weapons and black magic. Vitya finds himself in the very midst of incredible events, battles with mythical creatures and acquires real courage.
Trailer:
XV. Foxter and Max
Link: https://www.netflix.com/title/81637642
A  teen and his four-legged robot friend must go up against a criminal organization determined to get their hands on this technology. Starring: Bohdan Kozii, Vitaliia Turchyn, Daria Polunina
Trailer: