Driving in Kyiv Fortress
Skoda Kodiac is standing just outside as I call Bolt.
- Oh, that's another our car, - the driver point to the one standing at the bus station. - That's good that I got this order!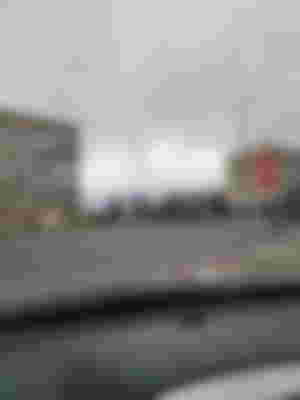 While in the first days of russian invasion it was almost impossible to find a taxi, now definitely supply is much bigger than demand. Many auto-parks returned to Kyiv, but still, most of the businesses don't work, most of the offices are closed and these cafes which work, usually work till 18, 20. The driver is very talkative so I point the conversation in the direction of this crossover car we're driving.
- It came a year ago, and in a year it drove 75 000 km.
Not so much - I'm thinking, as in 1 year I drove almost the same. Yes, in 2021 I started traveling in Ukraine more and drove to many locations: to Carpathian mountains, in Western Ukraine, in Central Ukraine. I also visited Melitopol and Tokmak in the south - places that are now temporarily occupied by russian army.
And of course hundreds of kilometers in Kyiv. Like these recent days - probably my average count is 100 kilometers per day (only in Kyiv city, not counting more distant trips).
Sometimes I tank the car every day. Recently the shortage of car fuel can be felt again. Many gas stations don't work at all, at my favorite chain KLO sometimes there is fuel, but recently rarely. Like following the habit I stop there to drink coffee. OKKO chain has 20 liters limit - "that's why we still have fuel," one of the managers said.
That's why I understand that electro-car is a necessary thing for the future. Sometimes I check the option and see that before the full-scale russian invasion there were better choices and better prices. There are enough charging stations all around Kyiv and it's common to see Teslas and Nissan Leafs on the streets.
In the taxi, I arrive at the Kharkivska region in Kyiv, on the left bank. The driver knows these garages so we drive inside the territory. Early in the morning, I drove there my old Toyota to fix some things, as this particular mechanic Sergiy I know for more than a year, he was very helpful in the past. There was no work recently, so even though my car reparations were not urgent - I order them from him so he will have more work.
My car stands outside and inside the garage, there is another one. Probably as more and more people return to Kyiv, business activities increase and such quality specialists as Sergiy will hopefully have enough work again.
Now all the time I have in a car canister with 10 liters of fuel. The canister is one of the goods which became scarce on the first day of russian invasion. But then in a month probably the supply chains adapted and I was able to buy one in the shop, and I see more of them in gas stations.
As the number of cars in Kyiv increases, the number of checkpoints decreases. Most of them just vanished. In a way, I wanted to remember each and everyone one of them - as the signs of Kyiv Fortress. But of course, it's not possible, s some of them, like the huge beton block on Velyka Vasylkivska near Lybidska would be able to cause huge traffic jams. Only 1 time I was there in jam maybe for 10 or 15 minutes and then - next day this checkpoint vanished.
Checkpoints and fortifications are like scars on Kyiv streets. Most of them disappeared, but the real scars, especially psychological will remain for decades. And we don't know how many more scars will appear during this war. We only know that Ukraine will win.
Kyiv Fortress is first of all metaphysical notion. Now Kyiv is the capital of Europe (these are the words of European politician) and it's good to be here.