My Thoughts On The Ideal Body Shape and Being An Apple-Shaped Woman
I tried to write a post earlier today, but I had a splitting headache (possibly a migraine) and had to pop a pill and do some neck stretching to reduce the pain. The pain is more bearable now. Migraine runs among the females in my family. My mom was always incapacitated with migraines every month when I was growing up. She would spend a couple of days off work to recuperate. Some years ago, I shared my struggle with her, and she assured me it would get better once menopause hit and taper off for good. I don't look forward to menopause which I eventually have to face in 5 years' time, give and take, but getting rid of migraine for good is one of the "perks" I look forward to.
The purpose of this post is not to talk about migraine or menopause, but this picture. See the difference? Someone posted this picture on Facebook, comparing these two individuals. The caption that was written on that post:
"Other with chubby And Me" .
I guess whoever posted that meant to compare the lady with long hair on the left is the "ideal" version of plus-size women - big boobs with an hourglass figure. And the picture on the right, obviously a man, is not the "ideal" body shape for plus-size women - flat chested with an apple-shaped upper body 🙄. Huh! How insulting! 😠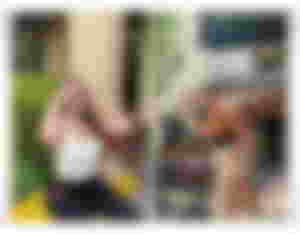 Image credit: Facebook
❤️ We All Have Different Body Shapes ❤️
The human body shape or figure is defined mainly by skeletal structures and the distribution of muscles and fat. It's a complex thing involving hormones and genetic makeup, and everyone is shaped differently. However, there are five common body shapes or types - pear, apple, rectangle, inverted triangle, and hourglass. You can read about this everywhere online, and I am not going to discuss them here.
But to think that one body shape is superior and more acceptable than others is shallow and stereotyping. The media played a major role in harping on the acceptable beauty standard, and the hourglass figure is often deemed more beautiful than others.
And it's no wonder that women worldwide, regardless of their age, are struggling with body image. According to a 2020 research, negative body image begins at an early age, as early as 6 or 7 years old. And this dissatisfaction with their bodies deepened when the kids reached teenagehood.
It makes me sad and concerned thinking about it.
❤️ I Am Apple-Shaped 🍏🍎 and Proud of It ❤️
I am an apple-shaped woman. I am fine with my shape because almost every female in my extended family has a similar body type. An apple-shaped person has a larger waist/abdomen because fat accumulates in the middle region. And because of this abdominal fat, we are at the highest risk for health issues compared to the other body types. While I am okay with my shape, I am more worried with the risk associated with it. My middle region does tend to be rounder and plumper than the rest of my body, even before having kids. So, even when I am not overweight, I still look "fat", which is an added bummer, to be honest with you.
And not to mention the difficulties of finding the right outfit that suits my shape. I avoid wearing skirts and dresses because they make me look pregnant. Since my legs are slimmer, I wear pants to make my appearance more proportionate. While my shape generally unfazed me, I admit the right kind of outfit does make me feel more confident and relaxed.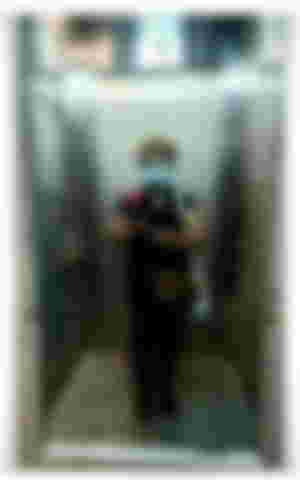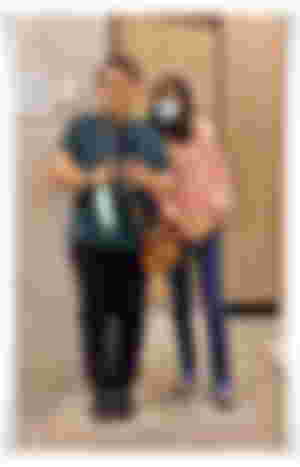 ❤️ Exercise and Eat Healthily to Trim My Apple-Shaped Waistline ❤️
I wrote about my health challenges and fitness journey several months ago and you can read it here: On the Verge Of Death | My Health Challenges, Losing Weight & Fitness Journey. Because of the health risk associated with being apple-shaped, I have been trying to consistently improve my health through healthy eating and exercising. It's not an easy journey, and I hit the plateau many times, but I am not giving up. Hormones also play a huge role, and the ups and downs of hormonal cycles have a huge impact on the waistline.
This picture is taken this morning, right after one hour of fitness kickboxing workout.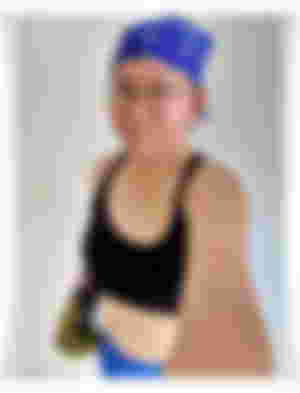 ❤️ So, Is There An Ideal Body Shape? ❤️
All body shape is an ideal shape. Why can't we think of our bodies not in terms of how they look? Why not change our perspective and give our bodies the awe and respect they deserve for being breathing, thinking, amazing, and efficient disease-fighting miracle machines? And if you are a mother, your body deserves to be revered for being the vessel that grows and nourishes a human being or several human beings. I am a mother of 2 kids. Even though society at large deemed my protruding, round belly to be ugly, hey, I grew 2 humans in them and birthed them. My fat belly is my trophy 🏆.
This message is for all women. If you feel discouraged, you don't have that sexy hourglass figure, or you despise your shape, try to do some mental readjustment. You are amazing. Your body is amazing, awesome, and beautiful for the things it does for you. If you could adopt that perspective regularly, you might be less susceptible to shallow societal ideals that create a harmful, self-serving negative body image.
Be proud of yourself. Be your own champion 😘❤️
---
That's it for now. If you read this far, thank you. I appreciate it so much! Kindly give me a follow if you like my content. I mostly write about making art, life musing, and our mundane yet charming family life here in Klang Valley, Malaysia.
Thank you for visiting and reading my post. I hope you like it!
My First NFT Collection – Stencil 2017 – Is Now Available On OpenSea

My Second NFT Collection – Oli Kawaii Verse – Is Now Available On OpenSea

Sponsors of coloringiship