2 years ago
(Last updated:

1 year ago

)
My first experience tasting a pomegranate was when I was about 10 years old. Someone presented me with this huge red fruit which did not look like an apple, except that it was red. I was instructed to cut it in half, pick out the seeds and eat them. What an experience!
First of all the ruby red seeds look like jewels! They say you eat with your eyes and this exotic fruit is very pleasing to the eyes. But the sweet taste is unbelievable! The fruit is rather expensive in the local grocery stores so it is not a fruit that I have very often. So whenever I can get my hands on a pomegranate, it is a special treat!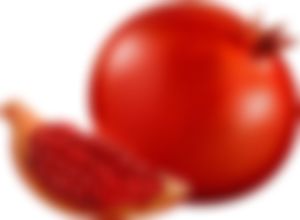 There are two (2) reasons why I love pomegranates.
REASON 1: The History of the Pomegranate is Fascinating
I love to explore food history and it turns out that the history of pomegranates is fascinating. I was inspired by a television commercial where they kept saying it was the "food of the gods". It is definitely a food from God. The pomegranate fruit can be found in Middle Eastern and South Asian history, as well as the history of Western civilization. Here are few fascinating facts.
The pomegranate tree was cultivated in Egypt during ancient times. In fact, the dead were buried with pomegranates because the Egyptians believed it would aid their passage into the "next life".

Pomegranates figure very prominently in the history of the Jews. It was one of the fruits growing in Canaan, the Promised Land. The robe of the Jewish high priest was embroidered with blue, purple, and red pomegranates. Additionally, this exquisite fruit was grew well in Galilee, the childhood home of Jesus.

In ancient Greek mythology, this fruit was a symbol for fertility but also for death, It was believed that the pomegranate came from the blood of Adonis. However, modern medical science has now enlightened us and we have learned that pomegranates have numerous health benefits. It is considered a "superfood" with anti-cancer properties.

Pomegranates are cultivated all over the Mediterranean, in Arabia, and in Afghanistan, India and China. The Chinese called the pomegranate, the "Chinese apple". In ancient Rome it was called the "Phoenician apple". Apple! Apple? Why did people insist on calling it an "apple"??

Most of the pomegranates in the United States are grown in California.

Food historians believe that pomegranates originated in Persia (modern day Iran). Zoroastrianism was the major religion of ancient Persia and pomegranate trees were planted in the temple courtyards. The leaves of the tree symbolized eternal life. Moving along the timeline, Islam became the prevalent religion and because of Islamic influence, images of pomegranates are part of the design and décor in many buildings, from mosques to private residences; they are decorative accents. Olives, dates, fig trees and pomegranate trees are the four (4) holy trees of Islam. Many Persian and/or Islamic recipes use pomegranates as a key ingredient.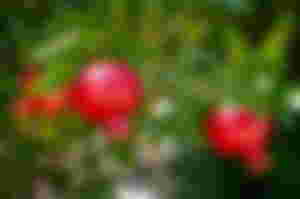 Speaking of recipes, this brings us to the second reason why I love pomegranates.
REASON 2: The Recipes Using the Pomegranate are Fabulous!
From drinks to dishes, recipes which use pomegranates are fabulous! I have been collecting recipes for years. Here are seven (7) that will probably make you love pomegranates as much as I do.
Moroccan Pomegranate Juice - Taste of Maroc
Pomegranate Cucumber Salsa – No Spoon Necessary
Pomegranate Ginger Sauce | Spruce Eats
Pomegranate Frozen Yogurt | Cafe Fernando
Merry and Bright: Pomegranate Christmas Cake - Sprinkle Bakes
Pomegranate Brisket with Cranberry Succotash | The Nosher | My Jewish Learning
Meatballs with Whole Garlic Cloves and Pomegranate Chicken! Recipes from Scents and Flavors: A Syrian Cookbook - From The Square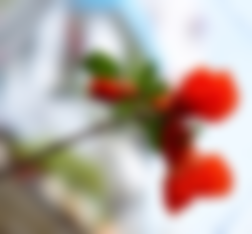 ADDITIONAL REFERENCES:
"Pomegranates: A Timeline History." FoodReference.com, James T. Ehler and www.FoodReference.com, www.foodreference.com/html/a-pomegranate-history.html.
Zorn, S. (2020, September 22). "Pomegranate season guide: Benefits & recipes." Retrieved April 30, 2021, from www.mccormick.com/articles/mccormick/pomegranate-season-guide-benefits--recipes
Turner, Lauren. "Why Do Apples Get All the Love? Fall Is Pomegranate Season, Too!" POPSUGAR Food, Group Nine Media, Inc., 7 Nov. 2019, www.popsugar.com/food/Pomegranates-Season-Facts-13111431.

● ● ●
More articles in My Foodie Luv series
More fun foodie posts on Noise.Cash Sponsors of cmoneyspinner
2 years ago
(Last updated:

1 year ago

)