2 years ago
(Last updated:

2 months ago

)
Black and orange are the typical colors for Halloween. Back in 2014, in Japan, for this particular holiday they started serving black burgers. It was the thrid time they released limited edition black burgers. The "first in 2012 (charcoal-enhanced bun and squid-ink ketchup only) and then again in 2013 with their KURO Ninja (it had a slice of bacon "tongue.")". (Quote source)
What were the ingredients used to make the black color? A black burger is made with a black olive and anchovy paste, and other stuff added to the ground beef that is shaped into a pattie; and squid ink is used for the bun's black color. The Japanese love them! Stop in at the Japanese burger chain J.S. Burgers Cafe. Also, the American restaurants in Japan, McDonald's and Burger King ("kuro-burger"; kuro means "black") serve a "version" of the black burger. It has been served in America, but instead of using squid ink, steak sauce is used to achieve the coloring. It's very popular during the Halloween season. In 2017, the McDonald's in Malaysia served a Black Burger and the bun is colored with charcoal.
If everybody was jumping on the black food bandwagon, would you jump?
Uuuhhh … let me think.
PRO Black Burger:
Why not? It's Halloween!
Burgers are comfort food.
Sampling world cuisine is a fun foodie experiment.
CON Black Burger:
Black food is a turn off for some people
Some people don't eat beef
Veggie burger "version" is not offered in restaurants
OK! So! You're a CON Black Burger person. How about orange french fries?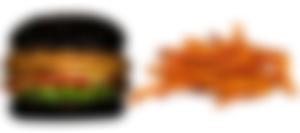 Since orange is also a typical Halloween color, and black food might be a turn off for some people, most people like orange food! Sweet potatoes. Carrots. Pumpkins. Candy Corn. LOL. 😃😃
There are so many wonderful Halloween symbols and treats that are orange or include orange in the color scheme. Whether or not you decide to eat a black burger, there is no way you can't be tempted to eat orange fries. If it's Halloween season, might as well get into the spirit of the holiday by eating orange colored fries. Orange fries? Uuuh … yeah! It's just sweet potato fries. Some people make carrot fries. But since it's the Halloween holiday, we'll call them orange fries. For those folks who try to avoid fried foods, these root vegetables can be baked. Or you can cook them in an air fryer.
PRO Orange Fries:
Eat for Halloween and all year round!
Orange food is prettier than black food.
Baked versus fried recipes available.
Meat-eaters and veggie-eaters can both enjoy
CON Orange Fries:
Can't think of any. Can you?
By the way, October is not only the month for celebrating Halloween, but it is also National Apple Month and National Pizza Month. OCTOBER ROCKS!!

Related Links of Interest:
Japan's Burger Kings Sell Black Burgers ... | Bored Panda
Burger King Japan Just Got A New Type Of 'Ugly' Burger | Mashed
Black Bean, Mushroom, and Kalamata Olive Burger [Vegan] - One Green Planet
Black Veggies are Part of the Rainbow
First Food Experiences: Veggie Burger
More Read.Cash articles in My Foodie Luv series
♦ ♦
2 years ago
(Last updated:

2 months ago

)