All about myself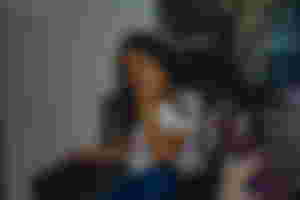 God made me with a great purpose .
I am now in my 20's and its been indeed a very long journey . I was raised by a very simple kind of family , God has blessed me with such hardworking parents they both played a significant role upon growing up , they are really mean to me and i considered them as an important treasures. My father works as a laborer and my mother is a housewife and i do have 7 siblings . I am the youngest daughter who takes some responsibility in order for us to live and survive no matter how chaotic and challenging the world is.
When i was a kid my parents always educate me on how to be responsible enough as a person , my mother teaches me to possess a kind of personality that pleases God and other people . She reminds me of this things because it will make them something they can be proud of me .

I am a simple girl , who have big dreams . I always like being simple ( not that humble) but there is beauty in being simple . I am still studying , a first year college student taking up Bachelor of Science in Public Administration. I am happy and grateful to God that he has given me strength and braveness all through the years that has passed , i am still standing not by my own will and power but by His unending love and grace .
I currently working at my cousins Medical Clinic Laboratory as a receptionist and i thanked God that he opens this opportunity so that i can be able to hand or lend even a small amount of money to support my family .
This job is a blessing .

With regards to my hobbies , i usually spend my free time on scrolling on social media , i like to read books , most often i read wattpad stories .I am obsessed when it comes to music and to be honest God has granted me a wonderful voice hehe i am a worship leader in our church and i know how to play guitar , ( just a little bit not that that excellent ) .
I choose to stay at home rather than going outside to make some "gala "hehe . Most of the time i am with my cousins and we are enjoying some things like singing and of course eating , they are my best friends since then up to now .
I like also to play volleyball this is is my favorite sport ever since . I usually listen to podcast this help me a lot of becoming as person i am right now , i get many motivations and it boosted my confidence even more .

I am so excited in my journey here in read.cash i hope that this will become more galvanizing and surely this would be part of my growth and success. This is my second account here in this platform i decided to make a new one .
Hope we can get a long with each other , and i just want to leave a wonderful taught this day that
Regardless of how we see ourselves as weak person , regardless of every tough situation in this life that we are facing we can always choose to fight and win all of those by believing in our capabilities and of course having the strong will to make all things possible.
God bless to us , and sorry for this late greetings , Merry Christmas to all .
Hope we are enjoying the true essence of Christmas, let us be grateful , and always trust Gods plan .
Shalom , everyone!!!!!