Palette of King Narmer
Narmer (c. 3150 BC) was the first king of Egypt to peacefully unite the country at the beginning of the First Dynastic Period (c. 3150 - 2613 BC). 6000 - 3150 BC) is also referred to as its last king. In the early days of Egypttology, these kings were considered two different men. It was thought that Narmer tried to unite at the end of an era and Menes succeeded him, starting the next period in Egyptian history.
 This theory became increasingly problematic as time went on, and while little archaeological evidence supports the existence of Menes, Narmer is well confirmed in the archaeological record. The great Egyptologist Flinders Petrie (1853 - 1942) claimed that Narmer and Menes were the first pharaohs of the First Dynasty, for two names marked a man: Narmer was his name, and Menes was a sign of honour.
 The same understanding applies to the other pharaoh associated with Menes, Hor-Aha, the second king of the First Dynasty (3100 BC), who is said to have united Egypt under central rule. If Hor-Aha is the ruler who unified Upper and Lower Egypt, then 'Menes'. it was simply his expression of honor, meaning "one who endures." It was not fully united until the reign of BC (2680 BC).
 However, this claim has been repeatedly challenged, as there is clear evidence that king Den (2990-2940 BC) crowned Upper and Lower Egypt and signaled unification under his reign. More importantly, the Narmer Palette (an ancient siltstone slab), Narmer Thus, it is generally accepted that unification first took place under the reign of king Narmer.
Narmer's United Kingdom of Egypt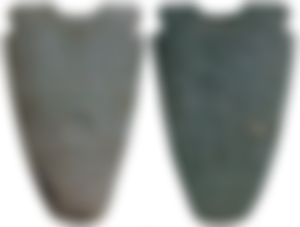 Prior to Narmer's reign, Egypt was divided into Upper Egypt (south) and Lower Egypt (north, closer to the Mediterranean). Upper Egypt was more urbanized with the fairly rapid development of cities such as Thinis, Hierakonpolis, and Naqda. Lower Egypt was on the Nile River. Both regions were more rural (generally speaking) with rich agricultural lands extending from Egypt's pre-dynastic period to Upper Egypt, which conquered its neighbor for grains or other agricultural products to feed the growing population or trade with other cultures and civilizations. It developed steadily over thousands of years until it led to the increased development of the
After Narmer established himself as the supreme king, he married in an alliance with the princess of Naqada, Neithhotep, to strengthen the ties between the two cities. Neithhotep's tomb, discovered in the 19th century AD, was detailed enough to suggest she was more than the king's wife, and some scholars believe that Narmer He claims that he may have reigned after his death. His name inscribed on serakhs from that period supports this claim, as do other inscriptions, but it is still not universally accepted.
Religious practices and iconography developed during Narmer's reign, and symbols such as the Djed (four-layered pillar representing determination) and Ankh (symbol of life) appear more frequently during this period. He led military campaigns in Lower Egypt to suppress rebellions and occupied their lands in Canaan and Nubia. He initiated major construction projects and increased urbanization under his management.
Egyptian cities never reached the size of those in Mesopotamia, perhaps because the Egyptians recognized the threats posed by such development. Egyptian cities such as Xois (to pick a random example) have been largely abandoned for thousands of years, while Mesopotamian cities have been largely abandoned due to overuse of land and contamination of water supplies. Although later developments in urban development ensured the continuation of cities, the early efforts of kings such as Narmer could have provided the model.
The details of his reign are unclear due to the lack of records discovered to date and, as noted above, the difficulty of interpreting these definitively identified inscriptions relating to Narmer.