Prosperity bowl
A few days ago I have posted about our New Year's Eve plan but unfortunately, we were not able to do it because we did not have any 24 pieces of a certain banknote. My mom and I was only aiming for the Php20 or Php50 bill. I fpund out about it December 29 and the following day when I haf to do some errands, it was a holiday so banks were closed. I tried asking the cashiers from the drug store and grocery if they can change my money but they said that they only have enough bills.

Come December 31, we did not have any time to drop by a bank do we tried asking some of our neighbors but they also did not have any bills of that amount. Looking back, we should have changed with whatever they had and maybe we could have made it to 24 pieces.

Then the next thing that we planned to do was the prosperity bowl. Have you heard about it? Have you done it in the past or do you regularly have a prosperity bowl in your dining area? What does your bowl consists of?

Like I have said, I only found out about the prosperity bowl very recently. For the purpose of this article, I looked up the meaning of prosperity bowl. As defined in The Chinese Zodiac website, a money bowl or most commonly known as prosperity bowl is a collection of lucky objects which, put together, will help you bring more money into your life.

I do noy know if this prosperity bowl changes every year but with the video that I have watched it consists of:

[  ] Bowl

This bowl should be able to fit 1 dozen of eggs. It can round or square (as long as it does have round edges) but make sure that this bowl is not plastic. But if you really do not have any, he said that it was ok.

[  ] Rice grain

The quantity depends on how deep or shallow your bowl is.

[  ] 12 pieces gold chocolate coin

For sweet relationships amongst family members, workmates and whoever.

[  ] 12 pieces coin

Coins should be uniform in amount. Then if you are to place them in the prosperity bowl, it has to be face side up and most importantly is that it has to be cleanse. On how to cleanse it, you just have to place it in a water with salt so it can remove the bad luck and bacteria.

[  ] 12 pieces raw eggs

Egg symbolizes as new hope. Since its shape is slightly round or oval, it means continuity. Blessings and luck will be continuous.

[  ] 8 pieces bay leaves

Bay leaves or laurel leaves is for all of our wishes that we will be able to achieve whatever we have wished and hoped for. Also symbolizes as success towards our hopes and wishes. Majority of us know that number 8 is the symbol of infinity so it means to say that all of our successes will be continuous.

[  ] 8 pieces paper money

Just like with the coin, the paper money should be uniform. You can use whatever amount that is available. Why 8? Just like with the bay leaves, you want your money to be continuous. Because this is paper money, we cannot cleanse it like what we did with the coin but you can disinfect it with alcohol or with thr use of a UV sanitizing machine.

[  ] 1 piece orange

For the Chinese, orange symbolizes as gold or wealth. Having this in our prosperity bowl means abundance in wealth whether in career, property and all.

[  ] Red thread or ribbon

Red thread or ribbon is to be use in tying the paper money. Red is said to shoo away bad luck and negativities.

[  ] Cotton

Cotton is to be place inside the paper money when we are going to roll it. The purpose of the cotton is to make it the money come in light. I used to hear from the elderly when they are having a hard time with finances is that they would say how heavy the flow of money and/or how heavy it is for the money to come. So we needed the cotton to make it lighter.

And here is how I did ours:

After gathering all the ingredients, I started first by rolling the cotton on the paper money and tied it with the red thread. I did not try if it was easier to use a ribbon, but my mom said that we should just use the thread.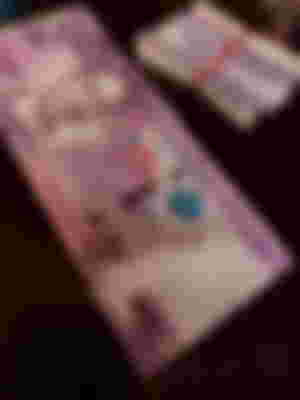 Next up, put enough rice grain on the bowl and then place the eggs forming a circle. Be sure to make a small space in between for the gold chocolate coin.
In front of the eggs, position the coins. Again, coins should be uniform and face side up. Then stick the paper money in front of it and lay the laurel leaves in the middle as this will act as a bed when you put the orange. Lastly, place the prange in the middle. And that is how we made oyr prosperity bowl.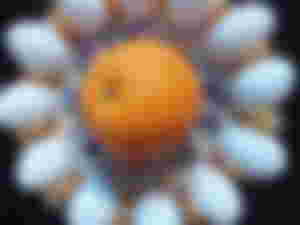 Just a disclaimer guys. This are just all guides for us to have good luck. Our success will still depend on how we work for it. Don't expect to be rich if you are not doing anything.

In the said video, it did not say where to place this prosperity bowl. We know that in Chinese they do have this exact locations where to place things whether in north, south, east, west or in any direction. For us, we placed it in our dining table along with our dishes last night.

Now that we have welcomed the new year, I am sure you are wondering what to do with the prosperity bowl. He said that we can eat and cook the ingredients and use or save the money from January 3 onwards. With the cotton and laurel leaf, I did not quite get what he said but I believe we are to place it in our wallets and coin purses. I think we can also place it inside our coin banks. I am not really sure as I am just making my own assumptions.

Do not be disheartened if you were not able to do it for New Year's Eve as he said that you can still do it on the eve of Chinese New Year. I do not know if people can still do it even if they have done it during New Year's Eve. Mark your calendars now and set a reminder so you can do it on January 31st as Chinese New Year 2022 is on February 1st.
January 02, 2022
P.S. lead image is our 2022 Prosperity bowl
Sponsors of bbyblacksheep