Makeup kit raid
I have already shared with you my skincare routine before when I published an article about almost all the skincare products that I have tried in the past. My skincare routine is just basic facial wash, toner and cream. If I am feeling like putting some face mask, I'd skip the toner and cream and place the mask on top of my face. Simple. Less is more right?

Now, let me share with you my makeup routine. I mean my makeup kit. LOL. Should I make a GRWM article? I will think about that. Anyway, this has been my go-to kit as it is handy and I can easily bring it with me whenever I would go out before. It is just an ordinary pencil case or pencil holder type of makeup kit. My cousin gave it to me more than a decade ago and have been using it ever since. I still have other makeup kits that are pencil case type but I like how light and compact this is.

So what are the contents of my makeup kit? Continue reading if you wish to see what's inside.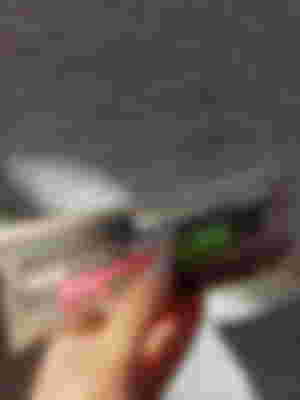 Ever Bilena lipstick (Sienna)
This is really not my shade and I do not know why it is inside my makeup kit but I did bought it way back for me to have different shades everyday. My favorite lipstick shade is inside the pockets of my bag. Actually, I do bring a lot of lipstick with me. They are just not inside mt makeup kit since my kit is small.

Brushes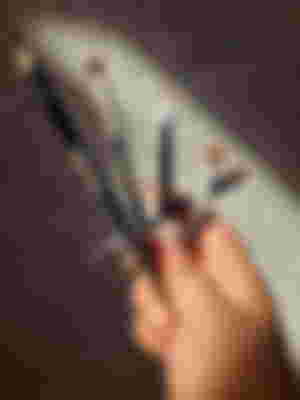 I just realized that I do have a lot of brushes in my kit. All in all I have 6 since one of the brushes is 2-in-one. I use these brushes for my eyes when doing smokey eyes. But I actually just use 2, one for applying eyeshadow and the other one for blending.

Retractable eye pencil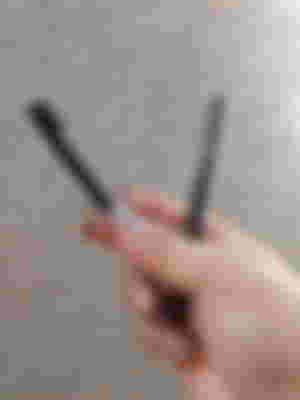 I only found out that I there is nothing left from Nichido's eye pencil. I still took a photo of it because it is still part of this makeup kit raid. LOL. The one on the right is an unbranded retractable eyebrow pencil that I bought from Shopee. It was for less than Php50 and a cheaper version of The Face Shop's eyebrow pencil. I use eye pencils for my eyebrows. Between doing a smokey eyes and achieving that perfect eyebrows, I find it challenging in doing the latter. I have 3 steps in doing my eyebrows before but now it is only down to 1. Either this eyebrow pencil or an eyebrow gel. Depends on my mood.

Fashion 21 eyebrow gel (brown)
Like what I have just said, I use eyebrow pencil or eyebrow gel in doing my eyebrows nowadays. But I kind of miss my 3 step eyebrow makeup routine. LOL. Eyebrow gel was my third step before. I would finish my eyebrows with a gel. This is the first time that I have tried this brand as it was recommended by the personnel in Fashion 21. She saw me holding a Nichido eyebrow gel in Brunette; which was my brand and shade ever since I started using an eyebrow gel. She sales talked me and because I was a little shy to turn her down, I bought what she offered. Quick question: do you also feel the same way when a sales personnel would come up to you and offer you different products? I do and most of the times when they are going to offer you something, we all know that the price will be a little higher.

In this case, I do not know which was more expensive between Fashion 21 and Nichido or if the prices are just the same but I must say that I did not regret that I did not turned her down. I like it even more than Nichido's.

Maybelline Great Lash Mascara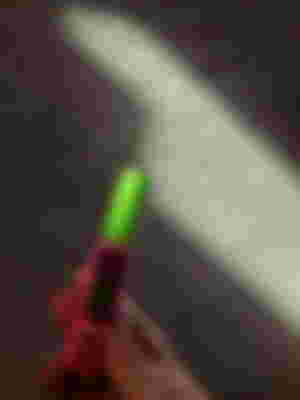 One of my best friends gave me this. Maybe because I do not have an eyelash curler that is why I feel like all mascaras are the same whether it is for length  volume, curl and to have that salon lift. I do not know why some brands have different types of mascara take for example Maybelline. There was a time when I was going to buy a mascara and I really couldn't decide because I liked everything that Maybelline have.

You's pen eyeliner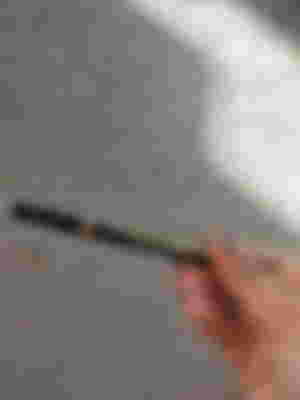 This was another recommendation from Fashion 21's sales personnel. I was surprised that she recommended a different brand for an eyeliner and that made me believe that she was just really recommending makeup items that of high quality. I prefer pen types as they are easy to carry and is not bulk like the liquid eyeliner or Fashion 21. For liquid eyeliner, I used to like Fashion 21 because of how cute its container is and it is also affordable. However, I noticed a change in the quality because after wearing it for more than 8 hours, I would feel that it starts to stick onto my crease making me look like I have a double eyelid. So whenever I would feel like it is starting to get sticky, I would just place my finger on my crease. I do not know why it happens but I am glad that I have now found a good eyeliner that really lasts long.

Eye shadows
This are not really my go to colors but it is just in my makeup kit but the brown and  blue in square form, I use them when I feel like using them. The other 2 eye shadows In 2 It and Victoria's Secret does not look good on me. But I still try to use them especially the latter as it was a gift from one of my best friends who also gave me the mascara. She likes giving me makeup items because she knows that I love it and I will use it. Although there was a lipstick that she gave me but it was in a baby pink shade. I feel like baby pink lips does not suit my skin color. I wonder where it is.

My go to eyeshadows are inside my bag. It has 4 colors white, dark brown, gold and bronze. It is a little bulky that is why it is not inside this kit. I guess I will try to make a room for it so they are all together.

There you have it. Those are the contents of my makeup kit. When I was in college, I used to buy different makeup kits of different shapes and sizes. But when I grew up, I realized how inconvenient it is to have a bulky makeup kit inside my bag that is why I opted for light and compact makeup kits. My sister-in-law have medium sized square see through makeup kit that she bring with her when she would step out od the house. She does her makeup inside the car and she also leaves her makeup kit there. She focuses more on foundation and concealers since she have some dark spots. She has a lighter skin color so dark spots are really noticeable on her. I guess if I also have a car and I would have an extra makeup kit there and another one that I will leave in the house. But most of the times I see to it that I have already put on my makeup when stepping out of the house so I would not have to bring my kit with me.

Do you also have a makeup kit? Can I see what's inside it?
May 02, 2022
P.S. lead image is a photo of my makeup kit.
Sponsors of bbyblacksheep