Mixed Fruit Special Turon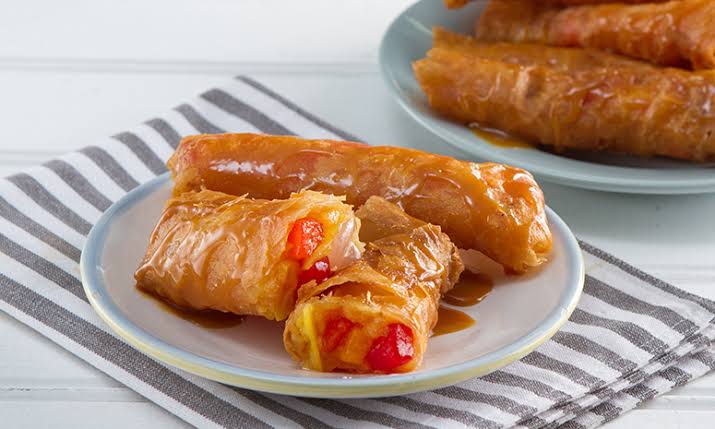 I have already posted a recipe on the how Filipinos usually cook Turon and its ingredients. Here, I am going to give you a recipe for cooking a Special Turon using Fruit Cocktail.
Ingredients
1 can of Fruit Cocktail (836g)

2 tbsp of Brown Sugar

1 tbsp of Cornstarch

1 tsp of Ground Cinnamon

Lumpia Wrappers
Procedure
Drain Fruit Cocktail. Set aside the Fruit Cocktail syrup.

Combine Fruit Cocktail, Ground Cinnamon, Brown Sugar and Cornstarch.

Wrap around 2 tbsp of the mixture on a Lumpia Wrapper.

Fry until golden brown.
Extra tip! SAUCE
Dissolve 1 tbsp of Cornstarch to the Fruit Cocktail Syrup. Let it simmer for 5 minutes. Add sugar to taste and simmer again for another 2 minutes.
Enjoy this Special Turon with your family and friends. Since this is not the common way to make Turon, you can also make a business out of this. It can make 15 to 20 pcs so you can sell it! ❤️