Creamy Caldereta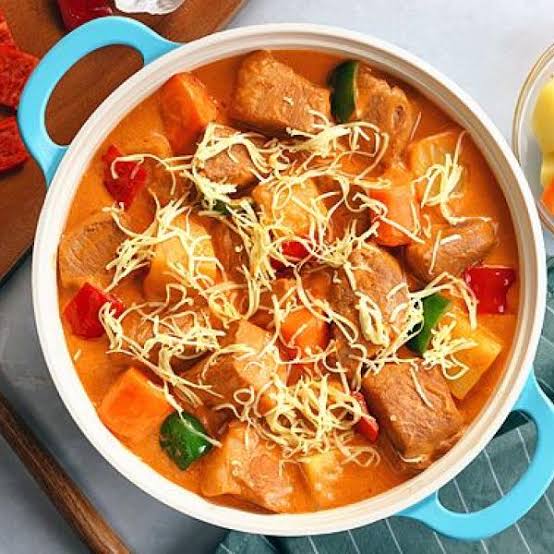 Have a taste of the famous Filipino Beef Stew! If you don't have some beef in stock or you don't eat beef, you can substitute this with Pork or Chicken!
Ingredients
Beef or Pork (cubes)

1 can of Pineapple Tidbits

(separate Juice from Pineapples)

2 cups of Water (or more)

1/4 tsp of Salt

1/4 tsp of Ground Black Pepper

4 cloves of Garlic (minced)

1 piece of Onion (diced)

2 Red Bell Pepper (lengthwise)

1/2 cup of Tomato Sauce

2 piece of Carrot (cubed)

2 pieces of Potato (cubed)

1 tbsp of Sugar

1 sachet of Maggi Magic Sarap

(can be substituted with Salt and Vetsin)

2 pieces of Chili Peppers (diagonal)

1 pack of All Purpose Cream

1/4 cup of Cheese (grated)

Oil
Procedure
Put meat in a cooking pot. Add Pineapple Juice, Water, Salt and Pepper. Let it boil and simmer for 1 hour or until meat is tender.

Once tender, drain: separate the broth from the meat. Set aside.

Heat Oil in a wide pan. Saute Garlic, Onion and Red Bell Pepper.

Add meat and simmer for 2 minutes. Add Tomato Sauce and the Broth. Let it simmer until sauce is slightly thickened.

Add Carrots and let it simmer for 2 minutes. Then, add the Potatoes. Simmer for another 3 minutes.

Season with Magic Sarap, Sugar and Chili Peppers. Simmer for 2 minutes.

Add All Purpose Cream. Simmer for 3 minutes.

Add the Cheese, stir and simmer for 2 minutes. Turn off the heat.

Serve!
This Creamy Caldereta is best served on a special ocassion. But since this is a very easy dish to cook and is very delicious. You can just cook this anytime you want and every time your family or kids request it. They will surely love it!