Carbonara!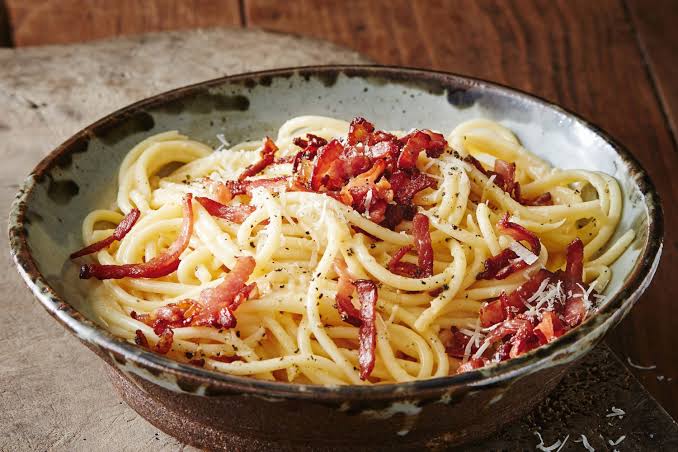 I am not a fan of a creamy pasta but since it has been requested by my family a lot. This is the way I cook my Carbonara that is simple yet delicious.
Ingredients
250 g of Spaghetti Pasta

1 tbsp of Oil (for pasta)

1 tbsp of Salt

125 g of Bacon

(chopped to small pieces)

1 small can of Chopped Mushrooms

6 cloves of Garlic (minced)

1 cup of Water

1 pack of All Purpose Cream

4 tbsp of Grated Cheese

1 sachet of Maggi Magic Sarap

1/8 tsp of Ground Pepper
Procedure
Add oil and salt to water. Let it boil for around 5 minutes or so.

Add Pasta. Let it cook until desired softness.

Drain Pasta and set aside in a plastic ware or big plate.

Heat pan and fry Bacon for around 5 minutes. Strain bacon bits and set aside.

In the same pan, saute Garlic and Mushroom.

Pour water and All Purpose Cream. Mix evenly.

Add Cheese and let it boil.

Season with Maggi Magic Sarap and Pepper. Let it simmer for 3 minutes.

Pour sauce to the Spaghetti Pasta. Mix evenly.

Top it with the Bacon bits and serve to the family.
Enjoy this creamy wonderful dish!