Likes and Dislikes Get to Know Me Questions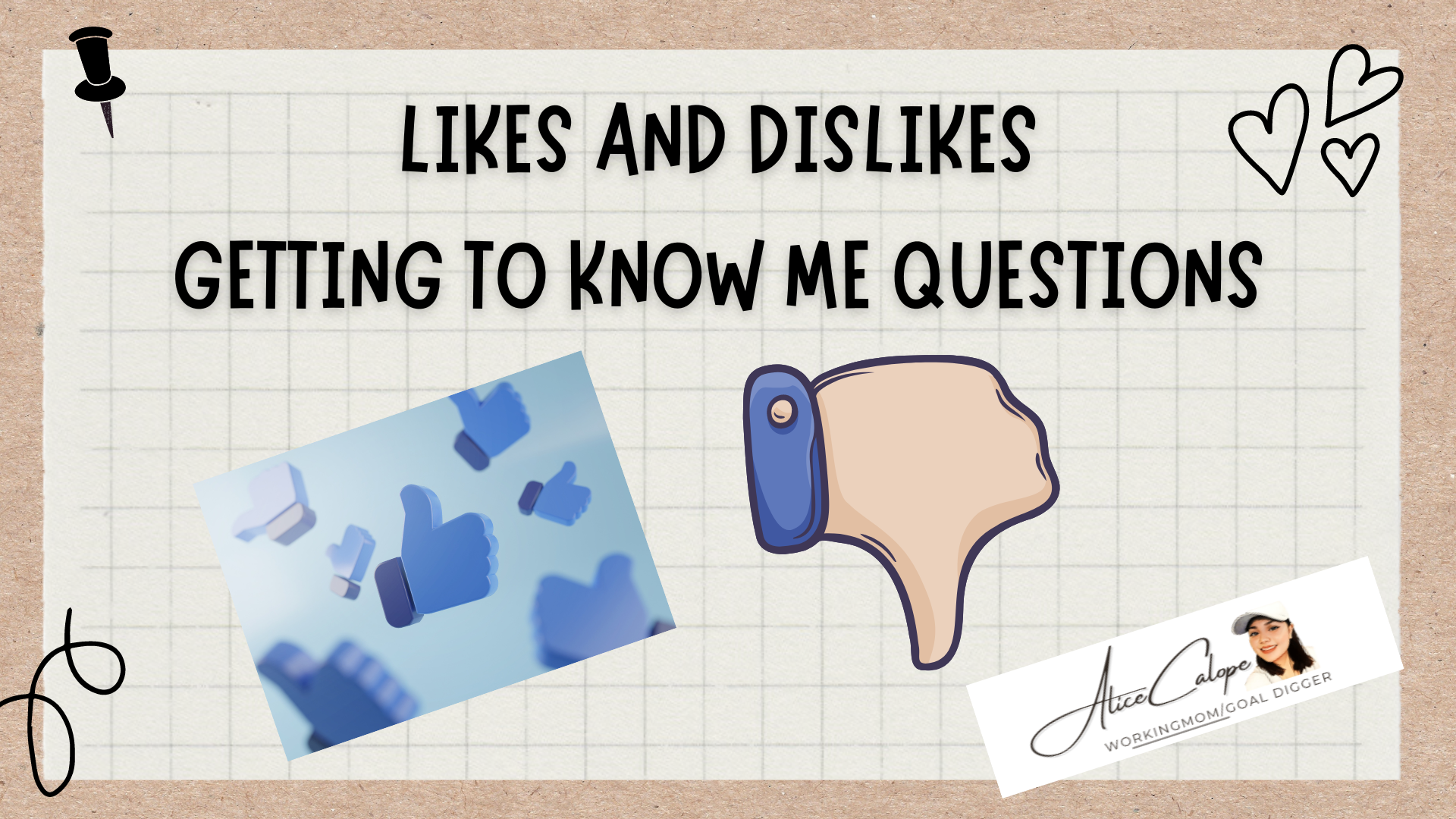 Blog:189-12th
Date :October 25,2022
Time :05:17pm
Here is another way to know me better. I wanna share something about my likes and dislikes.
Lezzz start.
What is your favorite hobby or hobbies? Why so?
My favorite hobby is gardening when I have free time. I love growing my own vegetables, spices, and even fruit trees. That way we don't have to buy every time we need spices, vegetables, and fruits
Do you like cold drinks or hot beverages?
Both. I don't like to drink Soda if it is not cold LOL.and I don't want to drink hot beverages if it's not that hot.
What is your favorite tv show or web series?
Since our tv is broken, I am not updated about any TV shows anymore. About the web series still not updated as I am busy at work and my side hustles
Do you prefer soft drinks or alcoholic drinks?
Soft drinks. It's been a long time ago since the last time I drink alcoholic drinks.
What is the food you can eat anytime?
I guess fruit, especially Pomelo.
Which season do you enjoy most? Why so?
Since we only have the dry and wet seasons in Phil I think I like the dry season better. I can move freely without thinking of the rain and it won't be that muddy at home.
Are you a morning person or a night owl?
I am not a morning person yet I have to wake up early every day but I guess I am a night owl since I love being awake at night.
What was your favorite subject in high school?
History. I love learning about the old times.
Are you more an extrovert or an introvert? Or do you fit in the definition of an ambivert?
I am an ambivert. I can be both extrovert and introvert
What is your favorite music or song? Do you have any memory related to it?
Yes, I have one song in my mind. One of them is When God Made You, I dedicated this song to my ultimate true love. I am not sure if most of you here know who it is LOL.
How do you like to spend your weekends and holidays?
I like to stay at home and relax. better that way to spend my weekends with my family.
What is your favorite cuisine? Do you know how to cook this food?
I love Chopsuey and yes I know how to cook it as I love cooking.
What is the most boring activity according to you?
Standing in line. As I hate waiting. I really really hate waiting.
Are you more into books or video games?
I am not into books or into video games.
What is your most comfy sleeping position?
left sideways while hugging a smooth pillow
Who is your favorite celebrity? What makes you admire him/her?
Jericho Rosales. I just like the way he is. I am not into fangirling though.
Which book or movie is your favorite? How did you feel reading (or watching) it?
The movie entitled Heaven is for real. It was recommended by my close friend and I love the movie. It feels so good after watching it.
Is there something that you can't live without?
I think my phone. Since I used my phone to access all my side hustles.
What is your favorite color?
I don't have a permanent favorite color. before my favorite color is black,anything in blue and white. Now my favorite color is gray and gold.
What is your favorite outfit? Is it because of comfort or looks?
I love wearing clothes that I am comfortable with at least whenever I move around I don't feel awkward or something.
Photos used in this article are all owned by yours truly unless it is stated.
Lead Image and thumbnail edited using Canva
To my ever-dearest daily readers, upvoters, and likers. thank you for your precious time and for your efforts. I love you all.
To my amazing and generous sponsors who have been supporting me since from the start thank you so much for inspiring me to do better each day.