My baby has a fever
#18 blog April 17,2022 9:56pm
Today is easter sunda,most are going to the beach,happy easter everyone.We should have go swimming today with our neighbors but we didn't go because our baby khym had a fever all night.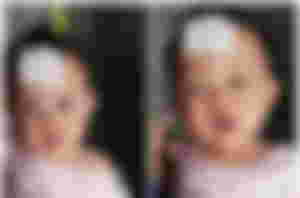 Yesterday at noon i notice that my baby khym seemed hot,i just didn't pay much attention the weather was also very hot,from morning till noon as in super dooper it was really hot even though the electric fan you will feel it the same.My husband also notice that our baby khym have a little fever when he was carrying her when he come home from work for lunch.
In the afternoon a heavy rain suddenly fell,the weather became even hotter because of the steam from the ground.
When the rain stopped,i accompanied my friend neighbor to look for a cheap rented jeep for the outing today,one of my friend neighbor had talked already someone online but we are still daring that we can fined someone cheaper.We also went around our neighbors asking for those who want to come to lessen the contribution for the rented jeep.
When i got home my husband immediately said that our baby was hot,so that i feed her right away but she eat only little the i gave her medicine for fever.At night our baby got even hotter,so i told my husband to brought for me vinegar,i mix it with normal water and let the towel wet to wipe may baby's armfit and forehead to lessen the high temperature of her body,i wife also the arm and legs slowly,after a while she get better the fell asleep.
Me and my husband coudn't sleep because we are watching our baby all night,while ny baby slept i keep on wiping towel on her forehead and leave a little there until the towel absorb the fever.
Around 3am no more fever so i take a nap after awhile she woke and cry,i hold her i feel that she has fever again,i gave her again medicine then she sleep back.She woke up around 6am,she's getting better but i still continue giving her medicine to make sure that the fever will gone.
She is smiling now,she'getting better more,no more fever,thanks god my baby's fine now.As a mother,it is difficult when your child is sick isn't it?mother like me knows that.
However,i am a little bit sleepy now,i want to finish my article before going to sleep,i need to achieve my goal to write atleas 1 or 2 article in a day if i can,i need to work hard for our economy hehehehe..goodnight