Barcelona regains its respect
Barcelona has always been a giant because of its huge fanbase, loyal supporters, and successful history. But this giant seemed to have gone to sleep after 2012. They were able to regain there top-flight bragging right in Europe in the year 2015, Since then it been struggling.
Facing huge issues such as the constant changing of managers, mid-season signings that never panned out, and worst of all an aging midfield and defense, Barcelona looked to be falling out of the top 5 in Europe.
But it looks like this sleeping giant has finally woken up. With the arrival of a Spanish genius ad coach  who can orchestrate every move from defense to offense and with the addition of a promising talent from Arsenal, Barcelona seems to be on a roll. Surprisingly it is not the midfield or defense that has been performing well for Barcelona but nethertheless it is the midfield and defense that have turned the tide for Barcelona.
Back then midfield for Barcelona is led by the almost ageless Xavi who joined Barca in the year 1998. He has transformed himself from the ideal playmaker to the ideal midfielder that can win balls, distribute passes and score goals. Along side him is Iniesta who has also been excellent in whatever role he is asked to play. The two players feed off each other to create one of most dangerous combinations in world football.
Same Xavi has become the Head coach and drastically changed Barcelona. Before now Barcelona had lost two consecutive clasicos to real Madrid and were in a world of hurt, But Barca woke up from their nightmare, that gave us the best football we have seen for long time, for this last eclasico Barca thrashed Real Madrid  4 nil at home , two goals from former arsenal  striker Pierre Emerick Aubameyang and one Ronald Araujo and ferran Torres score the last, they defeated Real Madrid.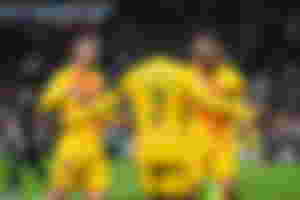 Barcelona have also reached new levels in Europe this season, with there performance in the Europa league. Barcelona are now favourite to win the Europa league. The future looks bright for Barcelona and they can go on to dominate football for years to come. The most exciting part about this present barca team is the young players they have in their rank. Xavi has successfully blend the old players with experience together with the young and talented ones.
Golden boy Pedri keeps on performing magic everyweek, Gavi's intelligence will make one doubt his age, Araujo is a beast at the back, Eric Garcia is improving, Nico is spetacular, frankie is playing well, Dembele's rebirth is amazing, Dest is playing well and we are yet to see Fati in action in recent times. The future looks bright for this team if they can keep this set of players together for years and maybe keep Xavi in charge for long.
With yesterday's performance, they've sent a message to Europe and everyone need to listen to them say out loud "they are back".
To my wonderful subscribers, inspiring readers, commentator, upvoters and also my generous sponsors . Thank you all so much for been there, from the bottom of my heart I say thank you. Adereign cares.