My Experience Working At a Factory
I am very thankful to my friend who helped me get a Work in a Factory .When it was my First day my Training,I was so very nervous when i went inside,because they were looking at me!I thought, maybe they are mad at me because they have something to teach me hahahaha ,but they cant do anything because im just a beginner,I dont really know what to do yet.I was with a checker ,she turned me inside so she could find me in which group to put.And when she found a group he sent me there and introduced me,I was suddenly scared that time Because my Leader looks mad at me!
But i just didn't pay attention to that because all i wanted was to get a job and learn from the Work inside.So i started its very difficult because you wii wrap a candy bar with the machine running,its really needs to speed up hands.In a one machines needs two (2 )persons one person will opereate the machine then her partner will be an Operator to wrap na candy bars!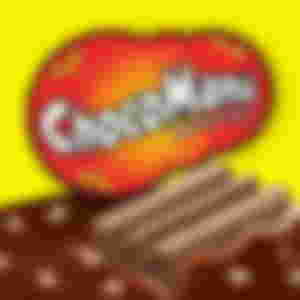 I tried to chase the bars coming out of the machine so i woudn't be piled up but i really couldn't because of speed of the machine.After a few minutes,my partner stopped the machine and looked at me like she was angry,Because i cant really handle the amount of piles with my hands,cause you need to look at the wrapped bars to check if its ok. So she taught me how to properly put and pile the bars in plastic.She also say's I dont want a slow partner i need fast ,Said.
It just hurts because she knows im just a new beginner so i didnt know how to do it properly.When it was break time in the morning i didn't go out because i had so many piles to chase ecven at lunch,i didn't eat anymore because i was ashamef of my many piles which also feels embarrassed them.While i was finishing my piles ,someone came up to me and helped me.!He also talked to me,he asked me if i could do it,i answered "yes ofcourse i can do it. "
Even if its hard,you have to persevere because there is easy job,especially for someone like me who didn't finish school.I'm just thankful to god that someone accepted me .When i finished my training,the checker talked to me And asked if do i seem to carry the work.So ived smile to her and said, i can handle it maam i will be able to get the techniques that are easy to do.!
The next day when i went ro work i really woke up early so that i wouldn't be late.The battle has started Again hehehe .Ang dami ko na namang tambak na ginawa i remember it reach 10 ampers .But i told to my self to make always fighting.Just keep doing it until i get it!Its funny because after a week ,i can finally operate without piles,!No longer embarrassing them.You just to really trust yourself and you dont need to give up right away.I also made a lot of friends .
there,almost all the workers there.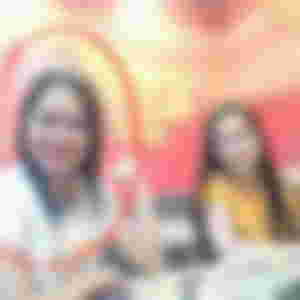 She was my First friend in there,when i already knew how to work inside ,she was also training that i was the one who taught her.The checker waa impressed because i seem to learn quickly heheeh.How come i dont learn right away,what im doing is if breaktime ill pushing my self to know to operate the machine.So i learned right away!And mamo became my Partner.I spent working there about 4 years.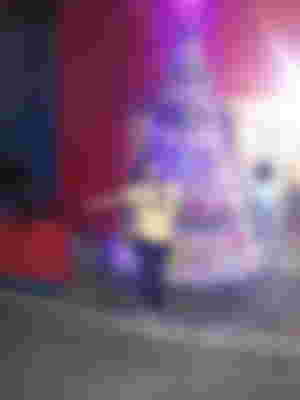 I just saw this picture again,Im still skinny here but now im Fat hahaha.I remember mamoo took that picture of me inside the company its our Christmas party that time.Its a fun time because all the groups have to perform a dance hahaha i dont really know how to dance but i dont have any choice ill forced myself even the hardness of my body its just like A wood!But im not alone ,many of us dont know how to dance hahaha.I reallt dont have any talent,sometimes i envious to others because they have a lot of talents but me dont have ,im a Kind of a shy type Person.
My mother used to scolded me because when we go to our Brgy, i dont really pass by when there are a lot of people cause im Ashamed.She said why you are shy? you have face and you are not Ugly !
When i remember that time it makes me Feel Laugh🤣Its not good when you're too shy!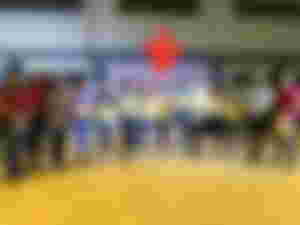 i was surprised when my Hr Called my Name i dont have any idea but i was surprised that i have this award being have an a Good employer!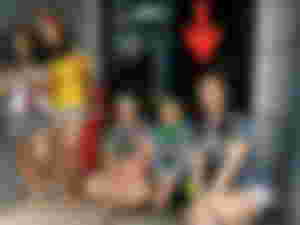 Shes our Hr before we are so lucky to have her she is so very kindly Hr she always interacts with us.When you have a problem,she talks to you immediately and gives Advices.And when she told us to resign because its needed a lot of workers are crying she resign because she and her Husband moving to cebu.!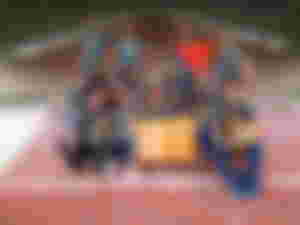 Our first team building was very wnjoyable especially when we started our games.But we always lose every game because our opponents are big,then my group we are Small hahaha.Even if we are Lose ,its ok as long as we enjoy the Game.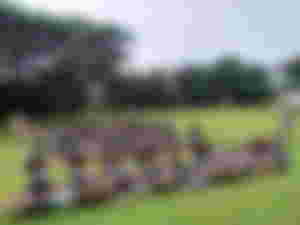 This is really the most difficult game i've ever played called centepede hahaha its almost i cant move my Feet after that game ,i said when its done i will never participate it again haha.We played a lot of games i forgot the other photos i saved ,or i accedintally deleted it in my Phone Hahaha.
I have a lot to Say But my Daughter is awake so i need to end there thank you for reading my Simple article And thank you so much to those who supports me my Sponsors @mhyo9 and @Jeansapphire39 You inspired me Writing Lovelots you Both❤
#4th Article
Thank you Again!