Bonding with My Love Ones(Family)
#12th BLOG
Arpril 11,2022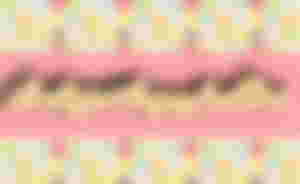 The pandemic started last January, 2020 first was the Taal volcano erupted and then the covid and until now it has not disappeared.My daughter was only 1 month old when the pandemic started, it's a good thing we thought of baptizing her on December. sHe was only 25 days old when we baptized her and I didn't think that it would be our last time out of the house. Even going to church we could not, because we are fear of the covid spreading.
We just go out when her Scheduled injection in center.That's all and then go home right away. Because it's forbidden to stay outside for a long time.so we were very careful that she didn't get sick because it was very difficult to go to the hospital.With God's mercy, we just thank him because he won't get sick.
And when she was 3 months old .I went back to my work.It's very hard because I'm breastfeeding, especially when I left her for the first time. My sister took care of her first. I also have no choice, so I give her formula first.She still doesn't want to drink formula because she is used to breastfeeding. So she always drinks a little.
I really dont want to give her formula.Because i just want her breastfeeding only.But i need to go to work again.I also thought about it a few times.Weeks later i looked at her her as if she had lost weight.She didn't really like the formula ,My sisters said that she drinks a little bit only.And i also try change the brand of the milk it might she want but still didnt.
_______________________
So i talked to my Husband that i really need to resign so that i can take care of her properly.He agreed,so the next day i immediatelywent to the office so i could say to our HR that i will file a resignation Letter.They didnt want to agree because there were not enough of workers at that time.
I explained to them the reasons that they agreed.But i still need to work for 1 month before i can leave there,cause thats their policy 1 month after the workers can leave.I would rather take care of my daughter than work ,because i can take good care of her.when I didn't have a job we decided to move to the house that my husband got here in general trias because it's a pity it might just break because no one lives so we moved here. My daughter was only 11 months old when we moved here.
When he was 1 year old on december 4 2021 we had a little party and my sister's also came here even far away. even if it was just a little food, at least we are successfully celebrated her 1st birthday.They cooked the food because I only know a little about cooking heheheh.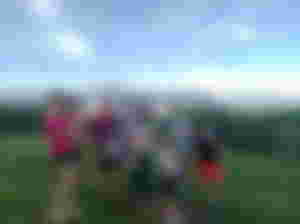 Im so happy This time even though we are not totally complete ,My 2 older brother's was that there .Because they are so with us and they have Difficulty of traveling specially this pandemic.
Fast forward
______________________
Last month because it's not so strict anymore, the children can go for a walk so we thought of going to the mall so we went to the mall so that somehow she knows what the mall looks like because she's already 2 years old but she hasn't been around even once .we were just always at home.Feel pity to the children born during pandemic period,like my daughter.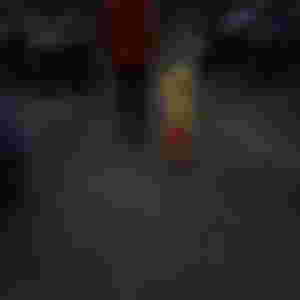 When we arrived at the mall he was amazed by what he saw outside hahaha because it was his first time to go out.she wondered maybe why so many people and cars everywhere, poor kids just now came out.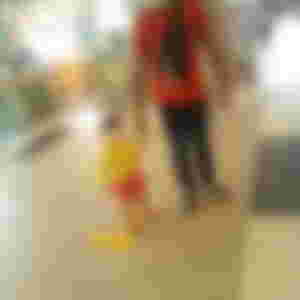 When we were inside, he started approaching the ones displayed inside hahaha then he saw the escalator he just wanted to be there so we went back to the escalator we went down and then went up again hahaha.That was her first time seeing a ladder's running🤣.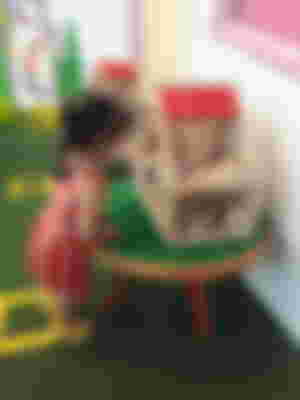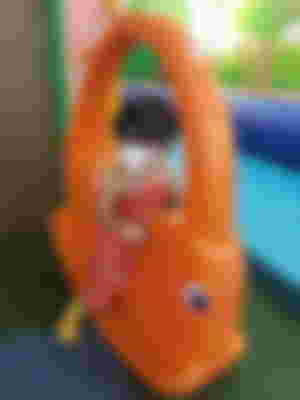 We also played with her on the playground, only his papa came in with her because when I come inside, another payment.She really enjoyed playing there.Hopping soon we can Go back there.
This is all For today,thank you to all readers!Also to my Beloved sponsors,!