Hello everyone how are you I missed you all I'm sorry for being inactive this passed two weeks the reason is the previous link that I wrote. If you haven't read here's the link. I hope you're all doing fine and great, it looks that I have a lot to catch up but giving up is not my line. And im happy to be back let's all from my dear read dot cash friends Christmas season is Fastly approaching. https://read.cash/@UsagiGallardo215/to-loose-hope-or-not-bagyong-paeng-1ff4c65
My Topic for today is still related to the link above because it's also one of the things that I don't want to happen but did. "Bagyong Karding and Paeng" test our strength and we thought we couldn't get over it but we did it all with faith. But for my comeback I want to share another things that I wished will never happen.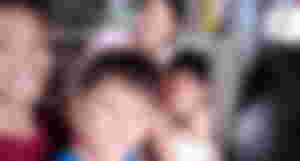 When I was so young my father left us so young that I almost forgot about him, I don't have siblings to play with. I have cousins I envy them specifically when they enjoyed their bonding time together well I have the chance to join but it's different when I can call my own dad. They are happy to see but my aunt and uncle fights often, I saw my cousins crying because they couldn't stop their parents they are afraid that they also might get hurt. I just starred at them and felt speechless this happy family has a lot of burden inside.
After we reached high school their parents separated my three cousins lived with their grandparents at their father side. I was also with them I heard their pain it's not easy to have a broken Family. The uneasy feeling is making it hard because family is the first community that we have and suddenly that foundation will suddenly fall from where we could find strength. Years later their mother came back but it didn't went directly to her in law's house because she doesn't want to have a chance of reconciling her relationship with his ex husband. Maybe she was not ready I didn't asked after I saw my aunt but I know her pain because I witnessed how she became a battered wife she endured it all for the sake of her kids. But foremost even a deep well will surely drain and I know my aunts Patient has ended up.
After what I saw and experienced with my cousins I promised that I will never let my kids have the same burden. And hopefully God will show me the strength that I need so I can stay together with my family. Me and my husband fight and when people are mad expect that you will throw words that you didn't want too but it's already to late to take it back. One of us needs to cool down because it may hardly leave to seperation and I don't want that to happen. My kids are still young and my husband even said that if I want to abondoned my kids I can never bring any one of them. And as the years went by my heart knew those word and for so long I knew the reasons. I couldn't feed them I couldn't give them what their father can. But a broken Family can't also feed the loneliest heart and this is the first thing that I don't want to happen.
Thank you so much for your wonderful time reading my today's blog.
Love, @UsagiGallardo215 🌙
The photos are mine except for the lead image.
Lead image source
Let's Connect I'm on:
Noise.app / Appics / Twitter / Hive