Hello everyone Happy Tuesday how's your day hope your all doing fine I'm happy because the water is subsiding and hope it will continue so I'll house will dry up.
My topic for today is all about our pet duck yes ducks maybe your thinking why ducks. Because they are only the animal who can stand in our situation and this place called Water World. A decade ago when our place is not as worst as now I have dogs and I've name them more beautiful than my kids name hehehe. Princess, Zabrina and last is Pyer after Pyer died I never accept another dog in our house because our place changed a lot because the water got stock. Pyer died by accidentally hited by a trycycle he was closed to my eldest daughter we cried again because losing a family member is painful and as my husband loved his brown thin hair he burried Pyers body beside our house so he will continue to guide us always.
As he leaves my hope for a new pet fades because how and where a new pet can stay here even I experienced a hard time dealing with this crazy place. So we focused on the remaining animals we have and it was also a really a big help for us because it's our source of income our ducks.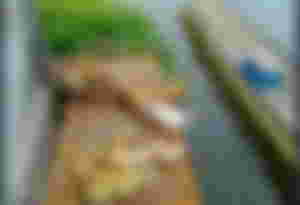 There's our ducks and our own boat beside our house, because before we only borrow from my in-laws but now we have our own. Our ducks chance to survive is to have a dry place even they are good swimmers they still need a dry place to sleep. Even we want to have a comfortable dry place to rest and so them also. The styrofoam is from our neighbour hubby bought that and still want more because it's very useful for our animals. If without those styrofoam our ducks will surely die and it's a lot of waste.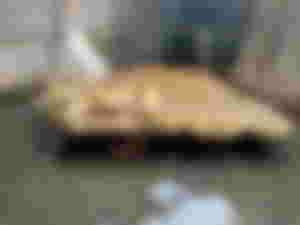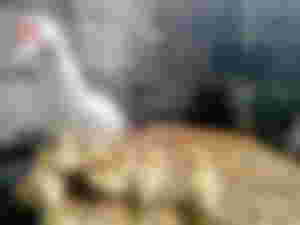 Look at mother duck she's so curious on what I'm doing she didn't know that I'm trying to help their situation get better. Maybe she's trying to say is are you going to eat us alive because of the smartphone I'm using to picture them hehe.
After those yellow ducks turned to white their chances of living are getting higher I remember this little one's when they drop of the styro they're chilling and we'll all afraid if it will die and i also pitty to see them.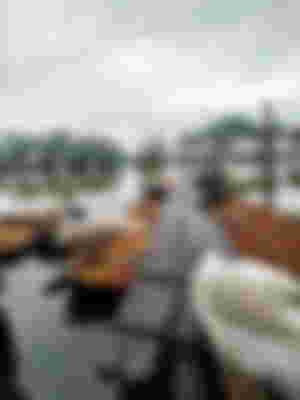 And now here all they and our other styrofoam are renovated and turned into a bridge. They now grow into matured ones those trials that we felt they also know that because they also want to survive. We also sell the others because duck meat are in demand our place, it's more delicious than chicken meat well it's a both for me but they have different quality that the regular eaters know. And I'm proud to say that I've eaten duck meat and sadly it was a long time ago, because we priority to sell it too. One male duck cost $9 to $10 while the female ones are $7 to $8 so this are the reasons why we want this little creatures to survive.
🌙
Thank you so much for your wonderful time reading my todays blog
Love, @UsagiGallardo215 🌙
The photos are mine unless stated
Let's Connect I'm on:
Noise.app / Hive / Appics / Twitter