Hello everyone it's been a week since I haven't right anything and is it bad, well im really sorry for being inactive because a chores of a full time mom is not easy specially when we still want to earn in our own. I need to wake up before five in the morning and I'm first to wake before my alarms rangs. I also slept late sometimes so I can go around my earning app and it all help me specially here and noise.app but last night I felt tired without doing nothing I was so sleepy and maybe my mind is recovering from being stressed.
All my hardships are all paid off when I met noise.cash and now a new buddy we all have noise.app and heyy my topic is getting far too long it's about a random reward for someone and do you know who's in favour of these let's roll the dice.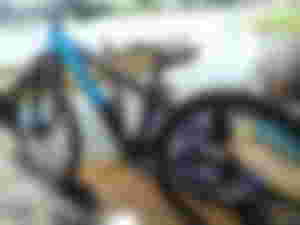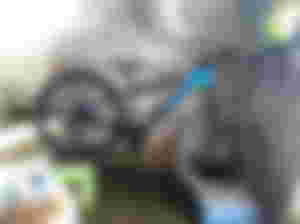 This is the reward of his father for being a good son to us and it's cost just around $100 or 5000 pesos. A friend sell these to us because they said they need money to spend their needs and we took a opportunity because we are also given a discount the original price was $120 and we saved $20 that was a great offer. My son was so happy to see it because personally it was gorgeous i loved its color and the photos is was taken by him.
One night my son was off to the court to watch the league of basketball he leaves his bike not far away from him, and the last time he saw it was with a strange kid that didn't asked his permission if he can used my son's bike. My son also said that it takes almost took 30 minutes before he told the Friend of his father what happened, then it immediately ride his motorcycle and find my sons bike Joshua (hubby's friend) he saw my son's bike riding on a (kulong kulong) or a trailer then the disrespectful kid is just pushing my son's bike pretending that nothing happened. Joshua didn't come near as he was spy his just waiting on what will the kid do.
Then after the kid went back to the court my son cried, and even harder after he saw his bike. Then there was his cousin while my son was crying my niece shouted the disrespectful kid and because it was a basketball league the attention was onto them the bad kid was even creating his own story the people there just stopped my niece. Then the Barangay tanod decided that my son's bike will have to stayed in the bad kids house. It was carry to a (kulong kulong) because it has a damage.
My son was brought home by Joshua and told me what happened, after my son went down to the boat his already crying and told me what happened I've pitty him because he told me his not eating his baon or his not spending his allowance in school just to save money for him to be able to buy stuff for his bike. I told him to relax and pull his self together because we can't do nothing now I was also confused and don't what to do. I called up hubbys friend and asked me what could we do because if hubby found this out will be all scolded. Then he told me that he already talked to the kid and told that they need to repair the bike because it was their fault. My son and daughter told me that they are not complacent that our bike is not inside our neighbours house but I told then that we should wait until tomorrow.
To be honest I can't do nothing about what happened because as I also heard they put the disrespectful kid in shame so even his wrong I've pitty him and want to correct his faults. I was in the house, The kid was almost famous in getting bike without permission and all wrong of a kid will surely affect his parents. I told my son to pray because God will calm you and all of us.
Thank you so much for your wonderful time reading my todays blog
Love, @UsagiGallardo215 🌙
Lead image source
Let's Connect I'm on