Social Media Entertainment is a Thriving Business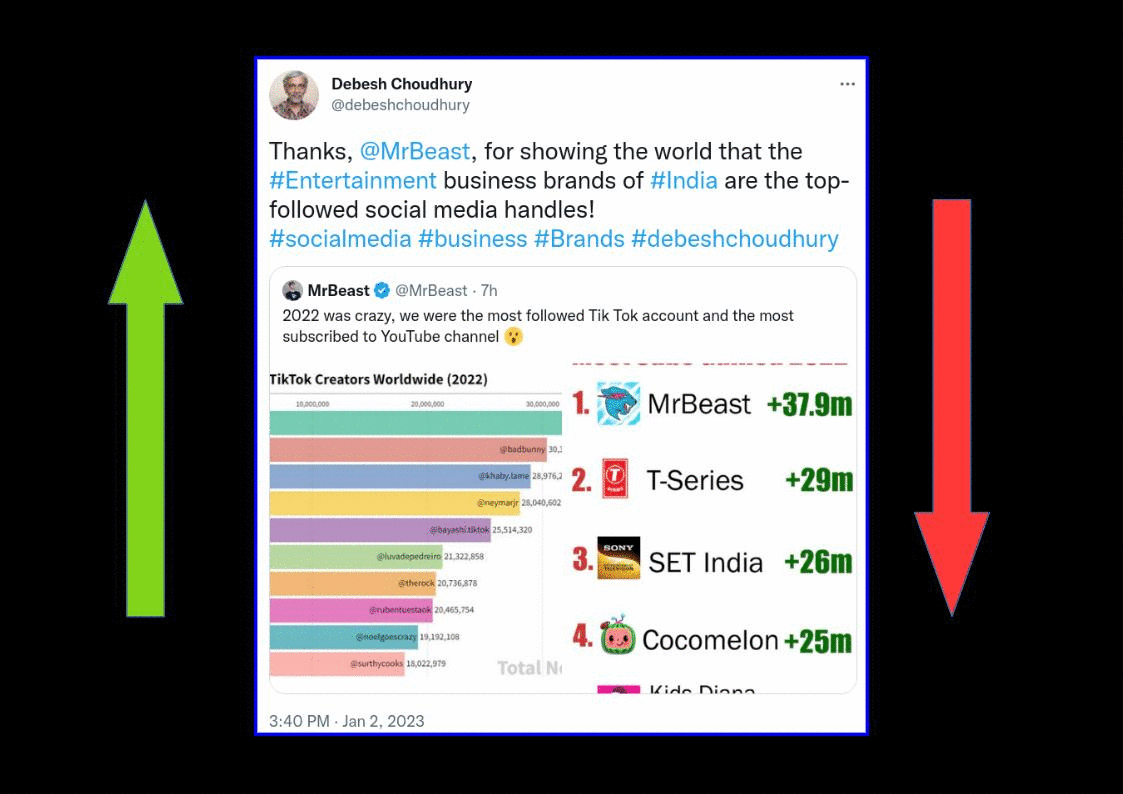 Entertainment drives the attention of the people.
That is the reason film actors whose works sell well are automatic celebrities.
It is an eternal truth that entertainment often sells without fail.
---
There are influential social media accounts based on specific topics and locations.
Recently, I came to know about MrBeast. I was not aware of the name. I only remember our teenage son telling me about a year ago on tree-planting news.

Now, our son reminded me that it was MrBeast who donated a HUGE amount for tree-planting activities worldwide.
But, we have to agree that the influencer status on social media comes from entertaining content.
---
A recent Tweet by MrBeast showed that he caught two entertainment businesses on TikTok in follower numbers during 2022!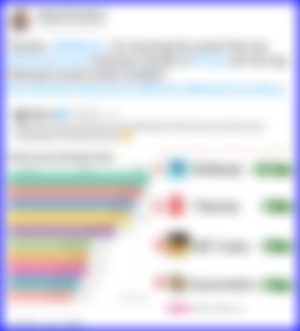 Screenshot Source
The above Tweet of MrBeast shows him at the top of TikTok. Just behind Mr.Beast are two entertainment businesses from India.
The second place holder is the Indian music and film media business for many years. In the 1980s, they used to sell pirated music cassettes, and now they are at the top business in the Indian entertainment industry.

The third place holder is an international entertainment brand that holds Indian subsidiaries and has huge sales.
MrBeast, as an entertainer, reached the first rank on TikTok's most-followed creators in 2022. It is a great achievement as a content creator!
---
<> Social media can attract the common mass via entertaining content.
My concern is different.

Can we drive the mass following from social media entertainment into enjoying yet meaningful activites, such as education?
=> Let us think about it (I am seriously thinking ...)
<+> Please share your thoughts in the comment section.
---
I thank MrBeast for Tweeting and showing the world that the #Entertainment business brands are the top-followed social media channels!

The Tweet is also a proof that MrBeast is an entertainer on social media.
Hold on, and the Tweet showed the list of the top followed creators on TikTok in 2022, which has been banned in India for almost a year!

That means many of the followers are from other parts of the world.
That also means if TikTok was not banned in India, MrBeast's social media account might not have taken the top position on TikTok!

However, it is commendable that MrBeast is now a social media business brand with many salaried employees and interns working for him!
---
Twitch: Debesh Choudhury.
Odysee: Learning Times, Debesh Choudhury, Music, Film, etc.
YouTube: Learning Times, Debesh Choudhury.
Create a new chapter on LinkedIn and these content-sharing platforms!

Build your personal brand image on social media.
Video Source
---
Cheers!
Unity (Debesh Choudhury)
Text Copyright © 2023 Debesh Choudhury — All Rights Reserved
Join me at
Twitch, CashRain, Odysee, LinkedIn, Twitter, NoiseApp, ReadCash, Publish0x, and Facebook.
Earn passive income by sharing unused Internet bandwidth on Honeygain and Peer2Profit.
Lead Image:  I created a GIF using my texts and images!
All other images are either drawn/created/screenshots by myself or credited to the respective artists/sources.
Disclaimer: All texts are mine and original. Any similarity and resemblance to any other content are purely accidental. The article is not advice for life, career, business, or investment. Do your research before adopting any options.
Unite and Empower Humanity.
#socialmedia #entertainment #creators #internet
#business #india #world #personalbranding
Jan 02, 2023