Music of CARO Emerald
Can we find anybody in this world who dislikes music? Maybe yes. I am not sure. On the other hand, I have come through innumerable people who very much like music.
There are so many varieties of world music.
I understand very little because I haven't learned music systematically. I could learn only an Indian percussion instrument Tabla and a keyboard called the harmonium. I have some ideas about Indian classical music.

But the main positive point is that I like listening to all types of music and exploring musical instruments. In simple words, I can say that "I Love Music."
I unhesitatingly share my reaction to one of the top singers in the world. I know some of you may not agree with such a calling. I can't help placing this particular singer at the top of my all-time favorites.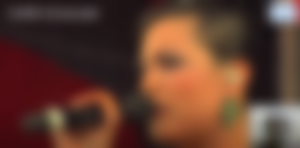 Screenshot Source
---
I listen to all varieties of music. I like classical and semi-classical the most. Folk music is also among my choice.

And I do listen to pop music or popular music.
I generally don't search for pop music. They come to my feed, and sometimes I find them so enjoyable. I used to listen to Michael Jackson, Madonna, Steve Wonder, Mariah Carrey, and likes.
Who can forget Madonna's "Last Night I Dreamt ...?" Or Steve Wonder's "I Just Called to Say I Love You," which was also used in the movie "Women in Red."
Jazz is the western music that has got a similarity with Indian classical music. Both has inherent freedom during the performance. The jazz musicians create extempore music while performing. The theme remains the same.
The same happens in Indian classical music. There is a theme called RAGA, and the musicians create a variety of compositions around the RAGA.
A BRIEF glimpse about an Indian Raga "JOG."
Video Source
---
Very recently, I learned about a singer who is from the Netherlands.
She is CARO Emerald.
The first song of CARO I listened to is "A Night Like This."
It was from a Live performance of CARO at the famous Sziget festival 2012.
Video Source
The rocking performance of CARO blew me away.

I have become an instant fan of CARO's music.
CARO Emerald has been in the pop and jazz singing arena for more than fifteen years. CARO's debut album, Deleted Scenes from the Cutting Room Floor, was released on 29 January 2010. The album was at the top rank for over 30 weeks in the Dutch album charts, beating even Michael Jackson's Thriller by one week!
I share my reactions to one of her live performances of 2012 in Hungary Budapest at the Sziget Festival. The song is called "A Night Like This."
Watch my reaction video on CARO Emerald! I am blown away by her singing!
Video Source
---
Twitch: Debesh Choudhury.
Odysee: Learning Times, Debesh Choudhury, Music, Film, etc.
YouTube: Learning Times, Debesh Choudhury.
---
Cheers!
Unity (Debesh Choudhury)
Text Copyright © 2023 Debesh Choudhury — All Rights Reserved
Join me at
YouTube, Twitch,  CashRain,  Odysee,  LinkedIn,  Twitter, Publish0x, ReadCash, NoiseApp, and Facebook.
Earn passive income by sharing unused Internet bandwidth on Honeygain and Peer2Profit.
Lead Image: A screenshot from my YouTube video.
All other images are either drawn/created/screenshots by myself or credited to the respective artists/sources.
Disclaimer: All texts are mine and original. Any similarity and resemblance to any other content are purely accidental. The article is not advice for life, career, business, or investment. Do your research before adopting any options.
Unite and Empower Humanity.
#music #jazz #songs #world #learning
Mar 21, 2023