Love Your Life
"Don't make me laugh," was the reaction (plus a soft kiss on my head) I got when I asked this question, i.e., "What is love," to my partner.
When I asked this question to my son when he was a kid, his answer was, "I love toys. I love my mother. I love you too."
I asked this question to many people during different times of my life.

I asked the same question of "Love" to myself many times in my life. I often ask the same question again and again. I always don't get a very romantic answer.

The answer comes from my regular work in my core field of science, technology, engineering, mathematics, information technology, computing, computational devices, live podcasts, and many other fields. These professional works give me the fuels for loving life!
Graphics 01: GIF created from my own captured video from our assembled desktop computer. It shows different computer parts, i.e., CPU, GPU, the wires.
---
What do we need when we get up from bed in the morning?

When a beggar gets up from a sleeping corner on the footpath beside a pavement, they also need something after getting up from the night's sleep.
All we need is some water to drink and something to eat which we term as breakfast in good language. The beggar also drinks water from the public tap and eats something if he/she has got money from the last day's earnings, or has saved a piece of loaf from yesterday's eatables.
If your baby, kid, or school-going son(s)/daughter(s) don't get food in the morning, they will be upset. If, then, someone very dear asks, "Do you love me" sort of question, their answer won't be nice.
Love is centered around the needs of the life we live every day.
---
I think it is too naive on my part to advice any other person. I must acknowledge that I often miss the basic needs of my life. Suddenly I remember that I need some money to pay the bills.
I must do something constructive to earn a basic livelihood. When I am able to feed myself and my near and dear ones and run a sustainable living, only then love reappears on the aisle.
I sat for five to six long hours and completed a tutorial article on Linux. I wrote it myself in very simple English. There was no need to check for any plagiarism. I did check for the grammar and spelling.
---
Oh yes, I forgot to tell you what the tutorial was for. I embed a photo in the next section. But, I can't show you the article, because I ghostwritten it for my client. I won't share it here!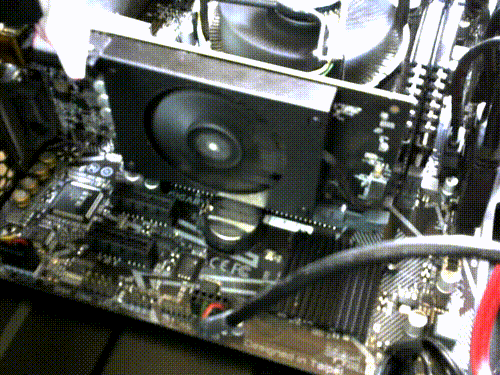 Graphics 02: GIF created from my own captured video from our assembled desktop computer. The GPU card is the rectangular item upon which part a small fan runs.
It was a short tutorial on how to install and upgrade driver programs for the Graphics Processing Unit (GPU) on any GNU/Linux computer. You can have a feel of what is a GPU device from my captured GIF.
GPUs are essential to accelerate the computer's processing power to handle HD videos, recording, editing, and displaying HD live videos.

You need a GPU with decent specifications if you want to stream live videos or play an HD game.

You will need very high specification and hence costly GPUs if you wish to run cryptocurrency mining on your computers.
The payment for this tech writing which is waiting to arrive at my fiat bank account within three to four working days is a decent amount (maybe, twenty-five times the best I get here from the algorithmic tips).
---
Love is needed to live our life with food, sleep, and other needs.

Our lives need sustainability but not super-rich with millions of dollars.

Life can give you back the fuels for love if you work and let it live.

We have to find work in our core fields and earn by providing solutions to clients.

As a part of my regular grinding, I was busy working on creating the Linux tutorial for a tech magazine to be published online from somewhere in Eastern Europe.
I hope you and I can find work and decently earn our livelihood.
Love your work to give love to your life.
---
I am from Science, Technology, Engineering, and Mathematics (STEM) field. I have also added "Arts" and "Fine Art" to my interests and made my current interests STEAM - Science, Technology, Engineering, Arts, and Mathematics.

I develop password security and cybersecurity solutions relevant to cryptocurrencies, blockchain, and other block-less distributed ledgers.

Thanks to all my sponsors, whose names appear in the "Sponsor" pannel.
I hope that the entire blogging community will strive here and elsewhere.
If you have a little time, consider to explore my "Learning Times" and other channels on Odysee-dot-Com and earn crypto coin LBRY Credit or LBC for consuming and creating content.
---
Cheers!
Unity (Debesh Choudhury)
Text Copyright © 2022 Debesh Choudhury — All Rights Reserved
Join me at  
Odysee, LinkedIn, Twitter, noise.cash, read.cash, publish0x, and Facebook
Lead Image: Animated GIF created using the title text and my own captured image
I capture all graphics and videos.
Disclaimer: All texts are mine and original. Any similarity and resemblance to any other content are purely accidental. The article is not advice for life, career, business, or investment. Do your research before adopting any options.
Unite and Empower Humanity.
April 16, 2022.