Do Not Miss Fun in Life
I made the statement - "Life without fun is like a food dish without salt.". My son objected, "There are many foods that don't require salt." He is correct in saying it. Sweet dishes don't use salt.
Everybody knows what fun is. Fun can add a little dose of merriment in any incident. While speaking some people always tend to smile. It shows their inclination to make others smile.
Smiling can create a moment of immense joy and fun.
---
Video: "Bob Marley crying laf."
Our life struggles have some punches of fun here and there.
We often get annoyed when a third person points it out to us. Some people easily get irritated. Few may also not lose any moment of irritation as an instigator to ignite anger. Then, these people may lose their temper very badly.
Many of those irritated persons may later laugh at their angry reactions.
That is how life is a mixture of struggles and fun.
If we enjoy it, life becomes an extraordinary journey of enjoyment. If we don't, life will always remain as ugly suffering.
Let's enjoy life with all its fun elements.
---
Video: "Bean's Best Speech | Funny Clips | Mr Bean Official."
I generally like lectures. When I was a kid, sometimes I used to go out with my mother almost everywhere she visited. I attended serious seminars full of lectures. I used to eagerly wait to find when the orator would go to end the lecture.
I never used to complain about the boring lectures. Because many other attendees used to pamper me with gaming smiles and, on rare occasions, with a small piece of chocolates. I minutely look at the faces of the audience for faces with smiles. As a kid, I used to search for fun elements everywhere.
When I grew up, I avoided lectures because most lectures were dull. Rarely do I find lectures with fun elements mixed with stories? Those speakers become popular among the listeners who can incorporate funny anecdotes between their serious topics.
---
Do you watch horror movies? I watched a lot of horror films when I was in college. I remember watching "The Exorcist" when it reopened in cinema houses. The horror scenes were shocking but were funny too.
Don't exclude the old classic films. I can refer to "Monihara" by Satyajit Ray based on Rabindranath Tagore's short story. In the end, it showed a man suddenly vanished in broad daylight, and the ghost storyteller ran away from the spot.
Video: 'মণিহারা' Teen Kanya ~ Monihara || Satyajit Ray 1961 || (with English subtitles)
The "Scary Movie" series probably made it a rule to include more funny stuff punched in between the horrifying scenes. Viewers can enjoy getting shocks and fun simultaneously.
Do you remember the famous Jim Carrey film "The Mask," which was based on an all-time great cartoon people read throughout the world? I enjoy watching it again and again. I attach the funny sequence when the protagonist discovers the mask.
Video: " SMOKIN'! | The Mask" (a funny sequence).
---
When your pet dog angrily barks and you give it attention, it stops immediately and makes typical funny gestures. As if it was asking you to smile and react. Even a pet animal wants fun and enjoyment in its life.
Video: "Baby Dogs - Cute and Funny Dog Videos Compilation."
Anger and enjoyment are the feelings most animals may have the power to express in some way or the other. Dolphins can even dance to funny music. That is what they show in dolphin shows worldwide.
Some animals, such as from the orang family, may know to smile. I haven't explored the research literature on animal psychology. I strongly feel they understand when people are making fun of them.
---
Charles Chaplin became Charlie Chaplin because of his funny approach to telling serious life stories. There were/are many comedy actors who were/are very serious in their real life.
Why? Pretty simple. Everybody has a real-life, family, and other engagements.
Acting is their profession and career, just like a medical surgeon executing complicated surgery in hospitals, doesn't mean they will always carry out surgeries in their everyday lives!
Charlie Chaplin discovered a unique way of portraying everyday life struggles in a funny spirit. The same sequences were shown very seriously in most other films. People watch it and sympathize with the characters. But, there were hardly any funny sides to their storytelling.
Video: "Charlie Chaplin - Feeding Machine - Modern Times."
Charlie introduced a unique yet funny approach to all serious aspects of life. That is why people still love to watch Charlie Chaplin films repeatedly. Charlie reminded the world how to extract fun from everyday life struggles.
---
Human life seems to be a complex project. Life becomes a merry project if we love it as a journey of enjoyment and fun with all the struggle parts.

Do not miss the fun elements of your life.

Enjoy every bit of it with equal zeal and curiosity.
---
Have fun and enjoy.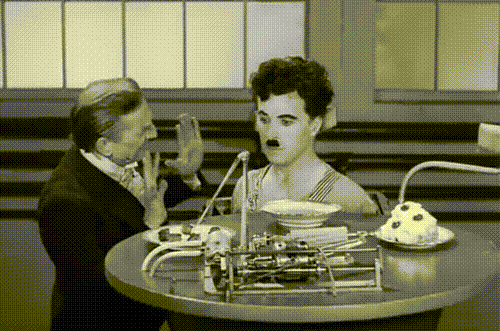 Graphics: GIF created from a video clip of "Modern Times 1936 (Charlie Chaplin)."
---
I have been a longtime practitioner of STEM - Science, Technology, Engineering, and Mathematics. I develop solutions for password and cybersecurity relevant to blockchain and cryptocurrency.
If you like, you may follow my writing communities and submit relevant articles:
Thanks to my sponsors, whose names appear in the "Sponsor" pannel.
I wish all members of the blogging community strive here and elsewhere.
---
Cheers!
Text Copyright: Unity
Lead Image:  I created a GIF from a video clip of the famous film "Modern Times 1936 (Charlie Chaplin).". All other graphics and videos are credited just below it.
Disclaimer: All texts are mine and original. Any similarity and resemblance to any other content are purely accidental. The article is not advice for life, career, business, or investment. Do your research before adopting any options.
Unite and Empower Humanity.
I am also on Noise.Cash ... click the link if you are there.
February 21, 2022.