Your Fitness Is Where Ever You Are. If my fitness book isn't all it's cracked up to be, in your opinion, I'll give you your money back. No Questions Asked. But you have to first dedicate yourself to I'm Core Fit for at least 90 days, taking it ONE DAY AT A TIME. Below you'll find what people are saying about I'm Core Fit: Success In One Day For The Rest Of Your Life. Read success stories of people becoming triumphant on their journey to better health and fitness. Don't let these lockdowns or anything else stand in your way to achieving the body and mind you've always wanted. Make I'm Core Fit a part of your health and fitness journey, and see and feel the benefits long before you finish this book.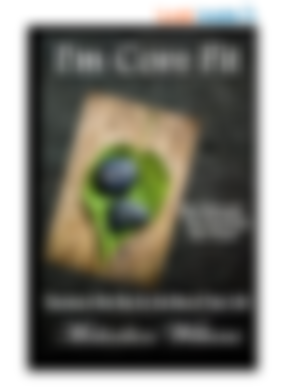 Marc D. Farber
5.0 out of 5 stars: I highly recommend!
Michaelson Williams' new book is a must read for anyone looking to make a change in their lives and finally take control of their health. The ideas presented are as much about changing the way you think about diet, health, and fitness as they are the specific actions you need to follow on the road to success. I'm Core Fit answers how to properly and effectively set goals, change habits, stay positive, and ensure that motivation is driven by positive rather than negative influences. The author's own story is an amazing one, having recovered from multiple serious injuries to becoming a body building champion, and I found myself inspired. This book addresses not only the specific actions we should all take in our approach to diet and exercise but how we need to overcome these challenges, taking baby-steps, thinking positively, and planning for long term success.
It's obvious while reading this book that the author truly cares about his clients as well as the challenges in the health and fitness industry today. Some of the 'big business' practices today were quite an eye-opener to me. I'm Core Fit is a straight-forward, compelling, and easy to read book, with an important message for anyone looking to make a positive change.
S. Robinson
5.0 out of 5 stars: A 'Must Read' for genuine fitness enthusiasts
Just finished a great book by Michaelson Williams. No matter the gadgets, programs, clubs, and incentives, core fitness and individual commitment make the difference. Mr. Williams shows what's phony and temporary, and what's genuine and long-lasting.
S. Rhoades
5.0 out of 5 stars: I'm Core Fit
Michaelson Williams writes a great book regarding your commitment to looking deep into your mindset regarding personal health and fitness. This book brings to light how you can either start to become healthier or dig deeper into the health and diet plan you already follow. Michaelson points out that like most things in life; you have to be willing to change and work hard. It's a must read to help keep you motivated for the new year and LIFE!
MacFit
5.0 out of 5 stars: A great read for all fitness levels...
I'm Core Fit is a must read for anyone (beginners, fitness enthusiasts, and fitness experts) who is looking to understate the "heart of fitness" and establish sustainable balanced living. Mr. Williams' narratives, practical advice, creative solutions, and fitness tips are enriching. This book equips the reader with the tools and a psychology to tackle their unique personal challenges and reach higher fitness levels. Simply put, I'm Core Fit is impactful and life changing.
J. McCoy
5.0 out of 5 stars: Great Book
This book is a must read. It opened my eyes to the truth and helped me to change my mindset when it came to my health. I'm core fit also gives daily principles to live by that will change your life. After reading this book I felt a renewed commitment to make life long changes in order to become healthy and stay healthy. I recommend this book to anyone who is seriously ready to become successful and healthier for the rest of your life.
Daniel Espinoza
5.0 out of 5 stars: Excellent!
This fitness book is truly inspiring! not only did it cover the physical but also the mental aspects of health. it is a must read for beginners or really anyone who is ready to become healthy and balanced in their life.

Respectfully,
Michaelson Williams,TSX, Author of True Success Naturally, Editor-n-Chief at MMAP Magazine, Creator of the A-Coin Token project.

Sponsors of TruSuccessXpert