Out tonight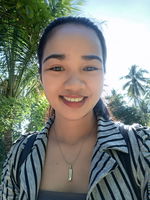 As much as I love to write an entry for Jane's challenge, which is story about love or valentine, I wasn't able to. So I guess I would continue to write how's my valentine's day going but not as an entry for the challenge.
Happy happy Valentine's day to my dearest sponsors. ❤️❤️
I wanted to greet you all here a happy valentine's day. Though my greeting is halfhearted but still I wanted to greet you and I don't want to erase the essence of today's celebration just because I have something heavy load inside me.
Today is just like the ordinary day. Nothing special. Since it's Monday I work my ass off until sunset. I love to reach some people through video call but internet connection wouldn't allow me to. This is one of the reason of my bad mood. I ended up registering promo for call. I don't want to miss greeting my mama this year valentine. That's the only thing I could do for her. I don't have any cards for her this year. So, I render my small time to her just to create a good talk to her. Hearing her thank you and greetings as well lighten my mood. I could see her smile on the other side while we talk on the phone.
I miss her so much. It's almost three weeks now since I did not come home. And she is all alone today because papa went for a out of town work with my brother. They was hired to work for a house and couldn't come home for two weeks. I regret I did not come home this weekend to see her or celebrate with her the valentine's in advance. But it's fine I couldn't done anything anymore. So, I am thinking I would be going home next weekend and would have a late celebration with her.
After we talk. I lay in bed and greet few individuals on messenger. Seeing a lot of post on Facebook about there valentine's day made me envious. Haysss SANA ALL. At first I thought it would just be for fun telling them I hope all because they recieve different gifts. But after some time. I get envious and eventually get tired. Then I stop.
Few minutes I was called for dinner. I went to the kitchen but it's quite and nothing was prepared for dinner there. I search for them and found them outside with this.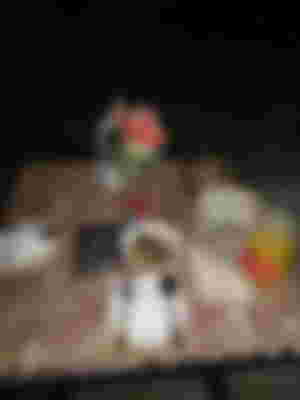 The table was set outside for dinner. There's a set for three. My boss' wife, there working student and me. My boss is not here today because of an out of town seminar. Since we don't have our Valentino today, my boss' wife decided to set a dinner date just for us. She order some delicacy as well for today. We have chicken soup and fish for dinner with juice as our drinks. The vibes was so romantic especially that the moon is out and shinning. I played some music while we ate and talk. Actually, I did not talk I just listen and laugh with them reminiscing what they do on previous years during valentine's day. I can't help myself to look back as well. But sad to say I don't have anything to look back. I don't know if I just can't remember well or I don't have really anything to remember.
Before I will be lost in my mind and memories I continue my meal. I focus myself to the food in the table and the present moment. It's quite. Very peaceful. The food is great. The moment is very nice. Yet I feel empty and sad. I don't know. May be I just long for something or may be someone tonight.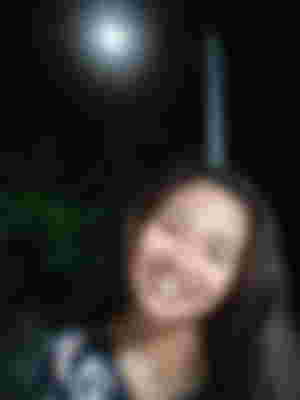 After having my meal, I took photos together with the shinning moon. It's very nice to have him tonight. At least with the moon I could still have light and would not be totally lost in the dark, of memories and place.
I could tell that special day would not be special without the special people of your life. It would just be ordinary just like the rest of the days. Sometimes, it would be sad and painful but, if special people would be around everyday feels like special day.
Everyday could be special day with someone special. But not every special day would be special without them.So, whenever you have time. Make everyday special with them cause they might not be there every special day.
We could do special things on special days but it would never be as special as ordinary days with your loveones. You might get lost too of where was this thought coming from. I guess this is from the heavy load that I told you from the start. Emptiness and the longing of my heart. Sorry if I seems so sad in this heart's day. It's me and my heart.
How about you? How's your heart day?
Let's cut this here. Thank you so much for reading. I appreciate you all.