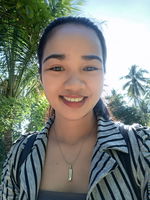 In the previous month and up until now, my anxiety is my constant visitor. I had been struggling to sleep every night. I always pray to the Lord that I could sleep and when I do, dreams always visit me. Some dreams give me smile others give my heart fast bitting. There are times it gets me confused and other times I totally forget about all the things that happened in my dream.
Check my wonderful sponsors they are very good writers as well.
Today let me share to you the different dreams that I see unto the other side of this world, in the vast space of my Dreamland, where uncontrolled things happened.
I dreamed that I went to an adventure with my family, just the 3 of us, Father, mother and me. We went inside a cave, and we killed many wild animals there. I am shocked that I know how to use guns and knives there. 😁 We continue our adventure hiding in the forest and escaping from the bad people trying to kill us. We hide in that old house and went into an underground. We stay there to rest and then continue our journey of adventure into the vast ocean. I am confused how we came into the middle of the sea. The last time I remember our place is far from the ocean. I swim there like a pro 😂 wew I don't know how to swim but then in that dream I was a great swimmer. Why did I say so? It's because I don't sank in the ocean even if the wave is strong and the ocean is already muddy and not clear due to the strong storm. What a crazy dream it is? Right?
I also dreamed of me playing the rain, running like a child in an elementary school that I don't know where. While the strong wind continue blowing and the rain pouring, I am enjoying it while dancing and singing. As I continue running, I passed by people who run opposite to my direction, making themselves safe from the storm and find the evacuation center. But I continue to run to the storm, enjoying the flood that is already flowing like a swimming pool in that space of the school. As I see on the other side of the fence of the school, a tourist destination which was deserted by the tourist because of the storm that makes the sea slapping it's wave angerily in the beach. I was excited to go to the other side. The next thing I have known I was in the middle of the ocean, brushing my hair while killing the lice that I get from my head. Whenever I remember that dream I laugh with myself because of the lice and at the same time confused of what's the meaning of it.
We all have those dreams that make our tears fall and I am no exception. I had this dream that I was awaken because of my sobs and the tears that flows in my cheeks. It was because in my dream someone cut my hair. I love my hair dearly that I don't want it to be cut. I told the one who cut to stop but they would not stop until there's nothing left but my bold head. I was so lonely because my hair is my source of confidence and I feel that I couldn't face anyone without it. I wake up between my sobs and my heart was so heavy. The whole day after that dream and the next few days was very gloomy and I was wondering what could be the meaning of it. I even search in the internet and they say it would be a sign of betrayal or a lost confidence.
I dream of my night in shinning armor as well. Sometimes I see him riding in a horse, saving me other times riding in a car sending my kids to school. Sometimes I see him with me in the altar, sometimes just laying in the garden while seeing the night sky. Some are flushes of an event that already happen, other times are the things I wanted to have in the future with him. It was like a dream of my dreams that feels like so near yet so far. I don't know, it feels like heaven but too good to be true.
This is the most weird horror I have ever seen in my entire existence. In that dream I was a new student in College. At first I was happily buying things I needed in the dormitory with my dorm mates. Later that evening we go to the shower room to take a shower , I bring my basket of soap, shampoo and all needed for the bath. We started bathing, I was in the first cubicle of the shower room. My mates was done before me and I am the only one left there. At first the water is off in my cubicle so I shifted in the second. In the middle of my rinsing the water turned off again so I shifted in the third cubicle. I continue rinsing when again the water turned off but the water in the first cubicle on so I went there and then it went off as I enter the cubicle and the water in the second cubicle on. I started panicking as I realized I turn off the faucet whenever I changed from one cubicle to another. So I run to the door but the lights went off. I couldn't see anything. When the lights turn on all the faucet are turning on and I scream because it's not water that I saw coming out in the faucet but bloods.
In my younger years, I thought Dreamland is a beautiful place to be. Where you can be what you wanted, where you wanted and how things you wanted to be. But I realized now that Dreamland is the scariest place I could be. And I don't want to be there. It's because I can't control the things there and I can't predict the things that could possibly happen to me there. It is a full unknown vast space.
I don't know if the meaning of the dreams are really true. Some I guess is a coincidence like the dream of pooping so much that I can't flush it all in the bowl. And mom told me that the meaning of it is money and the next day there is really a blessings of money that came. Others is just due to so much tiredness. But one thing I realized in dreaming all those. I realized that when you dream of negative things pray to the Lord and think positive, so that you can attract positive things. In the Dreamland you can't control what will happen next but here in the reality of life you have the control of everything. It's a matter of good choices over things and positive mindset over it. Most importantly God in the center of it.

This writing is in response to @JonicaBradley 's prompt #16 about dreams. If you wanted to write as well, the rules are simple.
Write anything about dreams

Write 100% original content

Write at least 600 words so Rusty will reward you

Submit to the PromptlyJonica community (please join us if you haven't already)

Tag @JonicaBradley

Have fun!
That's all for today folks. Thank you for reading.
Shout out to all my sponsors and friends I appreciate you all. Especially you reading it now. As always, I love you 🥰😘