Coming back, after the havoc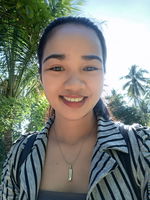 After few days, weeks and already a month of being in active here. I am finally back. I missed you all so bad and I know I missed a lot of notifications here. I couldn't explain how I feel right now that I am finally able to write. I don't know where to start. I don't know if I still have people to come back here too. (I'm teary eyed and so emotional. 🥺 Sorry for the drama)
Nonetheless, still I am grateful and overwhelmed upon writing this article tonight. I don't know how to begin everything from where I left. It's so much to tell. I am thinking that I will just share to you my status, our status here after the typhoon Odette since today is the first month after the devastation of the super typhoon Odette.
Data connection
It's finally stable now. Though some days, one of the two network will just be down and restore again but grateful that in our place we have the connection now. After my monthly data expired I wasn't able to register to another monthly subscription because from the place where I work the connection wasn't stable yet. And since most of my time I spend there than here in my place so it's better to not yet register for a subscription.
Electricity
In my place the electricity was restored as well not long after the typhoon but in the Southern part of Leyte, electricity wasn't 100% restored yet. There are only few places where lights are finally available most of them were near the national road. Eventhough electricity wasn't fully restored in my work place my boss request me to still work for me to have some money since it's very difficult to earn some today and necessities are at it's highest bid.
Food and daily needs
Talking about necessities at it's highest bid. Everything cost so much here. And I think there's no plan of lowering it down just for the sake of the people. Many are having hard times especially that their properties are almost all gone and destroyed. It's heart breaking knowing that the people who are having hard times were the same nationality from those taking full advantage of the hard and needy times.
Hardware supplies
Like roof, nails and woods also rise more than double sometimes triple from its original pries. Since the people need it so much and would buy it even though it cost much the business owners would take the full advantage of it. Without even thinking the welfare of the people who have the same nationality as them. Such a bad attitude and mentality people have in this society.
Weather
Sunday days were over and welcome to the cold rainy days. After the typhoon the weather was so hot and it last for how many days and even weeks. Thankful because we had the opportunity to wash and clean all the wet and dirty things during the typhoon. Now it's over, we are having the opposite days and I don't know when it would last. And because of the hot days before and now rainy ones many are having flu. Which would lead me to tell you the next status.
Health
I am one of the many that I am talking about that is having flu. Actually it's been few days now that I suffer from this luckily fever was not here anymore just cold and cough. Medicine gets out of stocks from most every pharmacies and drug stores. So, I am having the alternative and herbal medicine now like lemon, ginger, guava leaves, and lagundi. I also have the famous "tuob" or steam. I put some Vick vaporab and a salt on it.
Work
I am currently working form home because of my health status. I do isolate myself from the other by the time I had fever. Actually, all the family had suffer and got flu. I went home last week and take some few days rest after catching fever and getting back to work but still at home starting today. I told my boss that I couldn't get back yet because I am not yet okay. Promising to be back soon as I get well.
In general, the status of everyone on everything is having hard times but still coping up. People are still in the middle of fixing there house and was catch by flu because of the weather. Odette was still a trauma to many and yet we Filipinos are resilient as we show strength to stand and smile in every struggles we face. Today while everyone is coping up as one month from the devastation happened, the variant of COVID-19 was spreading and inflecting everyone. News we're counting thousands of cases everyday. It saddens us. Worries us. Yet we don't stop. We continue life. We continue to fight.
I hope and pray that wherever you are right now. God bless you always and that God will keep you safe.
This article seems so out of topic and very out of places and ideas seems everywhere, I just want to remind you that it's raw and that's how the disposition of my heart and mind today. I tend to think not just of my own worries but most of the time were other people's. I don't know maybe because that's what I see and I couldn't worry mine more than them because I could see them having hard time more than I do.
Let's pray for everyone. 🙏😇
Lead image from Unsplash
Sponsors of ThisisGrace21