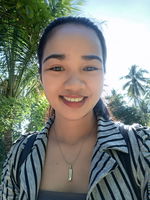 Hello everyone ! How's your Monday doing? I hope you you are all doing great amidst the new day of the week that is full of work, work and work. But let's be positive and be grateful that we still have job to get us through all the expenses. Praise God for that.
Before continue writing allow me to flex to you my sponsors. Thank you all for the support.

You can check them as well. They are good writers.
Today's writing allow me to share to you one of my mother's recipe that she passed down to me chuss 😂. Actually this is my first time doing this so I'm in kinda feeling of a passing down recipe from my mom lol. Just let me feel this okay? Haha.
It's a refreshment to all this hot days that we still have even though we are in "Ber"months. Since most of the time we are experiencing here in our place a hot days, me and my mom try this banana con yelo. So, basically from it's name banana con yelo, this is made from banana cooked with a twist. Since my friend bring banana that day for us to cooked but instead of just cooking it, mom think of making it as a refreshment.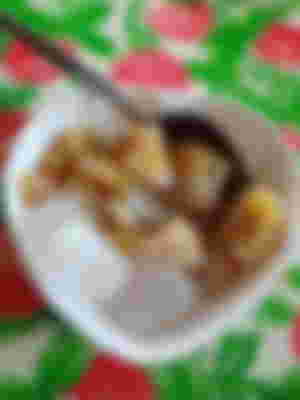 Ingredients
Cooked banana

Brown sugar

Ice

Evaporated milk
Yes, just a four simple ingredients and you are all good to go with this recipe. If you wanted to try and you don't know how just follow this five simple steps below.
First...
Peel and Cooked the banana. Make sure to put lot of water so that it will moist and still have extra water as a sauce.
Second..
When banana is soften put the sugar. Steer and wait until it kind of sticky or saucey a bit. Let it cool.
Third..
While waiting for the banana to cool down, cut the ice into small pieces.
Fourth..
Cut the banana into pieces. Put it in a bowl. Put the ice together with it.
Fifth..
Lastly, put the remaining sauce and add some evaporated milk on it. Mix it and enjoy your refreshment or snack.
That's the five easy steps on making the banana con yelo. It is quite best if you let it cool for a 5-10 minutes. It's delicious and it will make you full. And it will make the hotness of the weather go away. Just make sure you choose the right banana. Remember, it's not the banana that you can eat instantly. It's the banana that could be cooked. A "sab'a" in Filipino term.
I really enjoy making this recipe and it's not that hassle to make. It's just easy for a first timer like me. And I feel so proud making it haha. We did enjoy eating it with my family and friends. Since I told them to come over to taste my recipe. And I got a very nice compliments from them because it's their first time to taste such "minatamis" in that type of cooking. Though they already tried it before but not with ice and milk just the banana and the sticky sugar sauce on it.
Note: sorry for the term friends if I used such words. I just don't know what term to use sorry it's a very traditional food actually. That's why I had hard time explaining it in not a very traditional way. I did try my best but sorry if I fail. I hope you can accept my apology.
I am not just enjoying the recipe but I am proud as well learning about it. Yes, it's just so simple but knowing that it came from my mother and teaching me herself is such an honor and a memorable moments for me that I would be proud of sharing to my children and grandchildren as well in the future. While making it I am so happy and thinking that I would have a business with this recipe in the future. I am looking forward to. I hope so. In God's perfect timing.
We all experience of hot weather in the country and I believe a recipe like this could make it go away. So, whenever you feel hot try to buy or made your own refreshments. It could help you relax your mind and ease those uneasiness that we feel during the day. But even with the pros of buying because it's convenient, it's good to have cooking as a sort of bonding for the family.
I hope you enjoy reading and learn something form me today. Thank you for reading and God bless.
Love, Grace ❤️