It's been a while
Hola! Read cash family. I do hope all of you had a great day today!
Here I am again blogging the happenings of my life. Just please do bear with me na lang. 😁
---
We all have different likes and dislikes when it comes to food. We have differences in terms of taste, especially the taste of our tongue. Our tongue is the number one part of the body that will choose what kind of food we wanted to eat for the day. It can be the taste of sweets, bitter, sour, and salty. The four major tastes of the tongue. Hays! What happened to me, why do I always say the word "tongue"? Oh my?😱 This is it again. I am craving something to have and to eat. Huhuhu. I'm hungry again. 😭may be the result of a pure breastfeeding mom. Always feeling hungry. What can I do? I have no choice but to feed my hungry baby at all times as she needed it. 😔
Well, just this morning, my younger sister bought a kind of food that seldom passed by in our house. It is just rare when this man to sell his food in our place, at the same time, we are rare to eat this kind of food we are looking for, for the longest time. It is my all-time favorite since I was living in Manila way back in 2009.
(Flashback) 👇
When I was in Manila living together with my older sisters, they introduced me to this kind of food and they said that it is healthy and yummy. It is the best seller in Manila, especially in the place where I lived in. At that time, I was convinced to eat it. I was persuaded by my Ate's sales talk. Lol. So, out of curiosity, I tried. At first, I don't like the taste. I was about to vomit but my sister said that just try to swallow and enjoy it first. Then, I follow what my sister said. As I taste again, I slowly like the taste. It's indeed yummy. It's sweet and at the same time tasteless or what can I call the term. Lol. Every day, my sister always buy it since the vendor was always also dropping by in our house. So, as the days goes on, I started to love this kind of food. I started to appreciate the taste and the nutrition it gives. Maybe there is. 😁
(Back to the present )
Since my younger sister bought this kind of food, I hurriedly took my wallet and ask her to buy for me. As I had it in my hands, I felt so happy because, after long years, I can barely eat it again. I missed this food. Really. I tried this food on my baby as well, good thing she likes the taste. She loves it. She keeps on waiting for her turn. Finally, after more than 10 years, I eat again my all-time fave when I was in Manila.
The good news is that the man who sells this food, said that starting today, he will always be selling his food in our place also because our neighbors love it as well. 🤗
Okay so much talking! This food that I am trying to describe or share with you is this one 👇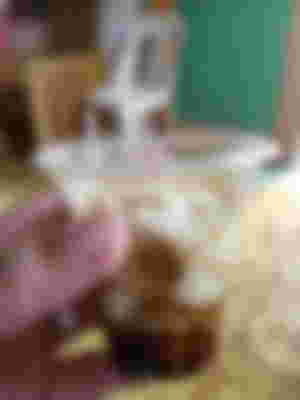 In the Philippines, this is called " Taho". I don't know the name of the ingredients. I never mind it because what matters to me is the taste it gives. I'll be happy if someone will give me this kind.😅
Who did eat this food? Is this your favorite as well? Well, as I said, we all have differences in terms of taste. So, just accept mine. But hey, you should try this one if ever you didn't. It is definitely tasty. Surely, you will keep on looking for this once you tried just like me. 😁
---
That ended my blog. Just excuse me for being so OA. Hehe just never mind. Thank you for reading and dropping by. I always appreciate your visits here. Keep safe always and be blessed. Shalom!
Date Published: March 16, 2022
                @  11: 41 PM
Blessed Author: Thania05
BCH DREAMER:    🤑💰💸