Conflict And Cryptocurrency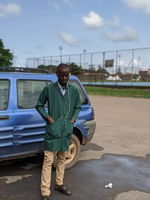 The conflict going on in Ukraine is hardly news to anyone these days. It's really so sad how quickly some politicians and power seeking manipulators who hide behind one idea or the other to get people to do their bidding, result to violence to get their voices heard and orders followed. At the end of the day, it's people who know nothing about it, who have no input in the decision making, that have to go out and die for the violence.
Someone once said that 'War is fought by young men who do not hate each other, at the orders of old men who hate each other'. We see it in Ethiopia, we see it in DR Congo, we see it in Sudan, we see it in Ukraine and so on. The violence in Ukraine like Ethiopia and every other place is quite unnecessary if these 'old men' will just sit and talk about these things. But while the war rages, something's happening off the radar.
The war has seen Russia slammed with such heavy sanctions, but it will be quite naive to think that Russia wasn't expecting that, and as such would have prepared a strategy to deal with a situation like this, still the Russian economy has taken a huge hit as result of this sanctions. The Russian currency called the ruble lost almost a third of it value in a matter of days. Russian companies and trade partners are finding it hard to complete any transactions as the sanctions have effectively prevent them from acquiring any of the currencies used for international transactions.
Ukrainians have not been left out as wartime strategy which involves strict control of money supply has been implemented. In the first few days of the war, the Ukrainian central bank tried to keep things normal, but eventually they had to put in strict controls in place as you'll expect in war time. This has meant ordinary Ukrainians can not access their own hard earned money, which under the circumstances, they seriously need.
This has once again brought to fore the inadequacies of the current financial system. A system where one has no control nor privacy over their own money. I'm not just talking about individuals, even a whole Russia is been pressed, squeezed and pressurized by the US and other western nations only because the current financial on the back of the dollar and on traceable and identifiable infrastructure that are concentrated in a few places. I'm not saying that Russia should not be sanctioned, oh I would clean Putin out if I could. I'm just saying just like in Venezuela, this situation has once more brought to glare the failure of the current financial system.
This is why cryptocurrencies were brought to existence. The freedom to control your own finance as you deem fit, when you deem fit. The safety and assurance of complete privacy when transacting, knowing that your transactions are public but at the same time offer you the privacy and anonymity that every person should have.
Governments can not up and just put a limit on your transactions or freeze your accounts or anything like that. They can't up and monitor your financial history just because they can. If cryptocurrencies were the currencies of the world, it would be literally impossible for the west to pressure Russia like this. What would they do? Shut the network? As long as one server somewhere is running, everything is good and Russia would make sure they have thousands of farms in the country.
The recent conflict in Ukraine has resulted in a rise of cryptocurrencies adoption in both Ukraine and Russia. This almost speaks Venezuela over again. Venezuela is one of the country with the best cryptocurrency adoption rate and this is largely due to people looking for means,to overcome the sanctions and the skyrocketing inflation in the country.
Now we see this playing all over again in the Ukraine-Russia region. Events like this will eventually convince more and more politicians to see the revolutionary benefits of cryptocurrencies. I would have said this can be the silver lining in this conflict, but there can be no silver lining in a thing that results in loss of innocent lives, including women and children.
I really hope that the violence in Ukraine ends pretty soon. If for nothing, for the sake of the innocent women, children and young men whose future's been destroyed for the ego of politicians whom have never really understood their pains and struggles.