Listen the voice of your heart!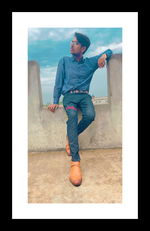 Life is full of risk and it is not equal for everyone for someone It is full plate of Berries and for someone else it is just a plate with nothing in it. But one thing that everyone want to live in this world everyone is doing struggle but the ways of struggle are different for each.
While going on a path you can observe so many souls. You can see the unbalance of life for which people are trying to make it balance. There are so many people who eat with full of their belly but there are some people who just left behind with nothing. The question is they all are doing struggle so why they are not getting paid for it. I might be wrong into it but I think the way of doing struggle matters a lot and it can decide the fate and can lead your life. If you are working hard and hard and not getting any reward then you must go for a mentor because a mentor is one who can guide us and can tell us that which direction is good for us as he has experienced so many ways. I don't think that for each thing we should Blame our luck . Ones hard work can even change your luck you just need a push. We might have gone through different situations in our lives. We all have different journeys no one knows the pain of other. We came in this world having no in our hands and we will certainly go from this world with nothing so we should take risk in our life and we should enjoy each thing and Should listen the voice of your heart` I know there are so many people in this world who are not satisfied with their life there could be many reasons behind their gloomy face . But the most common in them is fake life.
Which people live just to make other happy but we end up with nothing we tried so hard to make other happy with us but just one mistake of us made us bad Infront of other people. People use to live a fake life and they make decisions on the basis of people they own which is extremely wrong we are not doing anything wrong with anyone else we are just doing bad with our life because we are not handling our life we are letting them to handle.
But at the end of the day people make judgement. They make our life worse believe me the day when we keep ignoring the comments of people we will be able to ace in our life and our life will become a happy one. When we cares about people comments we cannot do anything big in our life. People are always there to make judgement because they have nothing to do it is their work but one person can prove them wrong by doing that thing for which people were saying that no you can not do this. This one sentence should be a motivation for all of us and we should always keep this sentence in our mind because this will always remember us about our destination and when you will be successful your success will be a slap on their faces and you proved that you have completed a journey but haters are sitting at the same place where they were long ago.
Most of the people remain curious about their future and in this hurry they ruin their present time. Believe me your future is secure if your present is going good. We should learn lessons from the past life and we should experience new things in our present life and be in the moment. So many people ask me that which is one thing which makes you happy I tell them that it is the vibe of being in the present time. It does not mean that I have no concerns about my future life. I am over thinker too but I don't make it heavy for me. When it is going to be heavy on me I prefer to do something that which can make my mood happier .
We don't know where our life will ended so we should live it in our style we should not keep ear on the voices of people. They will always make judgements. We should listen the voice of our heart. Be real
❤️💗💕Be happy pals
Thank you so much for reading