Hey guys🖐️
It's weekend and I'm sure most of you are having a nice time at home with family. For the workaholic peeps, God is our strength💪.
Special thanks to all my SPONSORS, upvoters, commentators, readers and likers💚❤️💚
In my country, we have a special name used to describe mermaid, it's called "Mami water". I'm sure you haven't seen a mermaid before. I met one last week and I'm going to drop a story line about it.
For the people that have not seen a mermaid before in real life, the movie industries have done so well in portraying the look of a mermaid to us. You've seen movies of such, right? Their beauty is extremely out of the world (of course they're not from planet Earth that's why). Their sparkling skin with long hair. And jelly fishy tail. The ones I've seen in movies where the light skinned beauties and that's usually in foreign movies, even our local movies here makes use of light skinned ladies for mermaid characters.
__________|||___________
You've seen a black mermaid before? I met one last week👸
Are you surprised? Black skinned mermaid? Hahah.
There's this lady that works in a bank close to our office, I usually go there for cash lodgement from Monday to Friday so I see her everyday unless the days she's not at work or maybe she went out for launch.
I call her "black Mami water" because she has all the attributes of a mermaid. wondering if she has a fish tail?, You would find out soon.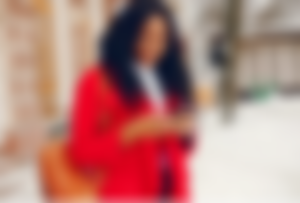 Her beautiful is absolutely out of this earth. OMG! I'm shot of words. Yeah, she's just a black mermaid.
I fancied her the first day my eyes caught her. She works at the customer care desk and that's opposite to my function in the bank(I go there to deposit money and that's not the duty of the customer care personel). So no way to exchange Pleasantries. We just see from afar.
I know she had gotten the "green light signal" because we've caught ourselves looking at each severally from a very far angle. Each of these moments, i felt like...sshhh🤫🙈
I considered she might be older than i because she doesn't look like those ladies in early twenties, this is based on her composure... though a bank staff need be well organized. So I'd just let it flow, not minding the age difference if at all she's older. But I think I'm too far already, I haven't talked with her and I'm assuming things already🤣🤣
Yesterday I got to bank and I noticed she wasn't on seat, I used my two sharp eyes to scan and couldn't locate her in the customer service desk. I just assumed she went out or maybe she didn't come to come. I headed to bulk room where I normally do my transactions and shockingly, I met her there, not the tellers desk but another different section of the office. She was posted to cover for someone (the guy that normally work there was not around).
This is how they work in the bulk room;
After the people on the main desk collects the cash and "filled" deposit slip, they take the cash and the deposit slip to a different table.

This different table collects the cash and slip from them and enters it into the system(processing). The lady was in charge of processing the payment.
So after they finished counting my money, they moved it to this lady's desk...my long time crush❤️.
What a good opportunity to atleast say Hi. The room was a bit crowded and as such, dropping some lines might result into looks from the people. I just decided to be cool. She was kinda shy as well, she couldn't look me the way we used to do. She checked my cash and slip, torn the slip into two and handed the one that belongs to me followed by a sweet compliment "you have a lovely handwriting"
OMG! I went to another planet entirely at that instant, " did she just fell in love with my writing?" my mind was beating fast with joy. I tried my best to compose myself to avoid being noticed by the crowd. I returned her kind complement with a "thank you" and left.
I should have chipped in conversation, right? Well, Monday is another day.
Thank you for reading my bugging Article
13th November 2021