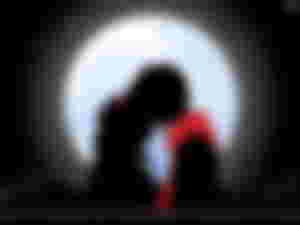 I asked him about the author of the message, but it was from unknown, unknown to them, but it is known to me the source. These letters went through, so that in a special way I knew the whereabouts of my beloved. Something I lost again.
offered her to marry her right away, but she did not reply and surprised me with tears in her eyes, especially when she told me, saying: "I wish we would go back to being young!" .
I never missed a day but saw her, heard her voice, and brought back all our beautiful memories with her. I renewed within me my soul, which I almost forgot as days passed away from her; One day while she was sitting next to me, a strange man I did not know passed by, but what caught my attention was that she knew him and knew him well, her confusion that appeared over her as soon as he passed by and put her eyes in his eyes, her whole body was trembling, so that she was about to leave, unlike her usual.
I intended to ask her about what is happening with her, but her condition prevented me from talking, and she took her to her home, in which she lived alone after her return from abroad; The next day I went to check on her, but I did not find her, and in one of my attempts to look out of a window, I found the same man warning me and threatening me to approach his wife again, and with a huge stick he hit me on the head.
I woke up in the hospital, not knowing who brought me, and I did not know anything except that I am afraid of losing her again, but this time she is married!
After the doctors did the necessary I went out, I went straight to work, the only place that has an awesome ability to make me forget about separation, and what parting ?!, it is my whole heart.
This time I could not forget her and did not go beyond her presence with me. I assigned the most qualified men to search for her and for any thread that leads me to the truth. Indeed, after three days, they came to me with all the news related to it ....
The same man, I married three years ago, is a businessman and has branches of his own companies in more than one country around the world. She returned to the country on a leisure trip alone, and after two months her husband joined her, and they booked their tickets to one of the European countries.
At that time, I felt as if my heart was being pulled out of my chest by force, I could not say not a single word, and finally she came back to me again but she was married to another man, now I understood her running away from my request to marry her, I felt severe pain in my chest, not even a lot of work, lack of sleep and permanent exhaustion they could Overcome it.
The next day, early in the morning, the house bell rang. I was about to open it. No one will visit anyone at this time unless there is something very important and necessary, and when I opened the door, the surprise was that it was the only love of my life and my life.
She opened the door, but I did not utter a word. She said, with the break in her voice and tears in her eyes: "Yes, I am married, but you did not know the extent of the difficult and bitter circumstances that I went through and took me to this marriage ...
Three years ago, my father met him and put his complete confidence in him so that he made me marry him, believing that he would protect me from the treachery of time, and that he would take care of his money and take care of his only daughter. He was a traitor who stole my father's money in addition to making him accused of many cases. He bore his trauma in this person and he died in a few moments and in front of my eyes, and I couldn't do anything for him at all, I struggled with living with a man like him, he did all the bad things you can imagine that you cannot imagine too, sad because I am looking for you again? Isn't I entitled to even a small amount of happiness ?!, I asked him for a divorce, but he refuses, and he always punishes me with the most severe punishments, I made him in one of the far western countries and fled here, until I found the happiness with you that I was deprived of.