The Way I Start My Saturday Morning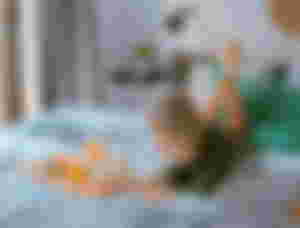 Unsplash Image
First of all a very good Saturday morning to you all. Nothing special today but I wanted to write about my lifestyle these days and how its going on. People feel lazy in winter but this is opposite to me because summer make me lazy. Last night we had load shedding issue and whenever my fan is switch off, I can't sleep. I had sweat but when the electricity came back I feel good because my sweat felt cool in the air.
Woke up after 4:30 am and attended my regular prayers and again sleep. I skip morning walk in summer because I sweat a lot and my dress get wet fast. I don't like it so I prefer sleeping. Getting overweight but no problem I'll manage it somehow. The morning sleep is not good as I believe its a tine killer and I woke up again when its near 9 am. I had some cloth to wash that I put into detergent water for hours. I washed them all and go to kitchen to prepare my breakfast.
Actually our maid already made the breakfast but I add some ghee in my bread and posed an egg because this is the day when our hostel maid serve a sweet dish that I don't like as breakfast so I prefer eating an egg or bring some other spicy curry from the nearest hotel. Yesterday I had Friday grocery shopping and I bought eggs, oil, mangoes and snacks. I need to plan for exercise at home. The only thing I like about summer is availability of yummy fruits like mangoes, berries and lychees and my post was about this yesterday.
My Saturday morning already killed by sleeping more than three hours now two more hours I have when I need to complete my tasks online. Had breakfast and mangoes and now I'm feeling fully recharged so very soon I'll open my laptop. Crypto market is always pump when I stop holding or sell it for dollars and always dump when I hold. Expecting my trading goes successful this time as my expectation is not that big.
The Saturday morning just begin once again with this post. I skipped my coffee and I may have it in the afternoon. When we sleep more, we feel more sleepy and I have solution of it and that will be a shower after an hour. Last evening it was raining and I miss it now because I'm sweating though fan is moving over my head. Expecting a good and productive day and this is just the beginning. I wish you all having a great weekend. Have a nice day awesome people over there!
Thanks For Stopping By Here