Success behind Failure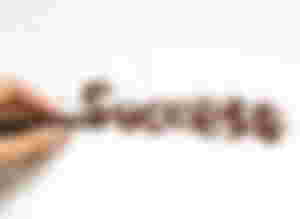 Every individual must have their own definition of success. There are people who say that they are successful if they have their own income, support their family, pamper their parents, or maybe if they have successful children. There are also people who define success as simply as being able to eat full every day, being able to wake up early, or being able to see the smile of their idol. Consciously or not, everyone wants to be successful.
Success is often identified with a person's success in achieving something, be it a career, achievement, material, to a certain peace. A person's ability to reach a point is an indication for that person of his ability. "Oh, it turns out I can". Then the person tries to reach a higher point as the target of his success.
However, does failure then indicate that someone is not successful? no, not necessarily.
Enjoy the proccess of being successful.
Some say that failure is delayed success. But as long as the person is sincere in the process, then he actually gets his own success, regardless of the end result called "success". Why? Because that process enriches him. That process can be used for various opportunities that will come. That is why, people who go through the process correctly even if they fail, will be more useful than people who succeed by cheating. Because he will find a way to get up, while the cheater is not necessarily successful again if faced with the same problem.
Pay attention to small successes.
The meaning of 'success' that we aim for may consist of small successes. So far, many people are too focused on something that is far ahead and ignore the satisfying things they have gone through. A student failed to win in a national competition. He failed, but had been through a lot. For example, he has studied various kinds of problems that his friends may not be able to do, he won 1st place in his city, province, even national level, he got pocket money that amount had never been imagined, he was able to go abroad, he made many new friends. . Enjoying the small successes that have been obtained will keep us from falling too hard when we are awarded with failure.
Pursuing success. on the tip of the nail.
When a person decides to get up and not give up, he is actually experiencing success. Yes, success with itself. Saying 'no' to giving up is the greatest success, considering yourself as your strongest enemy. people who give up are people who fail more than people who fail themselves. Because people who give up have closed themselves off from success, even though success is actually at the tip of their nails.
Not winning is not not successful.
Understanding life is all uncertain, that's the success and failure. In a competition, one can get first place. However, in the real world, outside of competition, would he have lasting success? It's the same with those who failed in the competition. Are they really not needed out there? True or not, the decision still comes back to each individual. Want to really be successful or not.