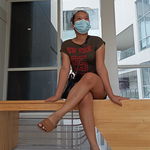 "Friendship means a bond between people that connects them and let share each others feeling and thought,someone is your friend if you feel like you can tell them anything and love to spend time with them."
I was about to sleep,but then I remember someone who is very important to me,so I grab my pen and paper to start writing that I can share to you.
I know each one of us,has that someone we can call a friend. But what can we do to make that friendship last? What is the real meaning of friendship? We have different stories about friendship. And this is how my story goes,
3 years ago I met my friend at a BPO company,were both a representative that time, at first I don't really like her because she's the kind of girl who is too "OA" I hate the way she talks and laugh because it irritates me so much, and sometimes get scolded by our manager because of her behavior,and she still have the guts to smile,but one thing I like her is the way she dress up,she looks so fancy and exepensive in every way,I also called her "maarte".But from time to time I didn't notice I'm getting closer to her. And yes we beacame friends, and its true that we should not judge someone by their appearance and on how they act, because in time we dont know that they are the one who can help us.
I never regret that I met her because she's the one who make me feel good about myself,even most of the time she's making fun of me, she's the one who's there for me when I need her the most. I love the way she giving me an advice.
The moment we became friends she's the one who's not get tired in supporting me in every little things and decision in life. She's there for me when I needed a shoulder to lean on and someone that I can talk to. She's always listening to all the nonsense topic that I am sharing to her,and she is that we called one call away friend.
We cry,we laugh,we share our "kaartehan" in life and sometimes we argue,but we always got each others back. Everytime that I am with her I feel alive and happy because she is so "kalog", that's why whenever I can't see her around I get easily feel sad and alone. I can't imagine how life would be without her pressence, in other way she's mean a lot to me.
When we are together we laugh out loud and that's make me feel good, we dont even care what other people can say about us. And for me she is the one that I can really trust because everytime I share my secrets to her I feel safe, and she is one of the generous and kind people that I have ever met.
I love how the way we talk about our mistakes, some family problems ,about lovelife,future and goals in life because we feel comfortable and no doubt in sharing each others experience or something that we've been going through. I tell her as well all my insecurities in life, and what she did is helping me boosting my self-confidence. She's the one who encourage me to take a step forward and leave all my insecurities behind.
That's why I'm so grateful that God give me a friend like her,a friends who believe in me. In addition her existence is very important to me. Even now that we are miles apart,when I need her she's willing to listen,even how loaded her schedule is,even how tired she is from work,but she still can manage to reply to all my messages. She gave me unconditional love without expecting anything in return,because that is what friends for.
Yes, I can't deny the fact that I have many aquaintances along the way,but when I met her I can say that she is the Real one.
"A real friend is one who walks in,when the rest of the world walks out"-Walter Winchel-
And that quotes of Walter Winchel describe her a lot,a perfect definition for my friend. So if you found that true friend try to appreciate the love and care that they show to you.
Happy reading and Thank you so much for your time.🥰☺️
Friendship meaning :https://voxatl.org/friend
Lead image from Google