I had published two articles about the ethnic people of our country. They show us the diversity of our country. They show how people of different categories are living with harmony. It is the third article about them. You can check out the previous two articles from the link.
https://read.cash/@Piku/ethnic-groups-of-our-country-2639c60e
https://read.cash/@Piku/ethnic-groups-of-bangladesh-d7b4cb4c
The Oraon live in Rajshahi, Rangpur, Dinajpur.
There are two different groups based on language. One is who speaks Kuruk and another is Sadri.
Their village council is headed by a "Mahto". The regional council is called Pahta, representing several villages.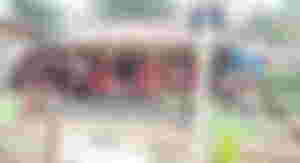 Their main God is called Dharmes, who is believed to be the creator of the Universe. They also believe in spirits that are called upon to heal diseases.
Their main festival is 'Karam' or 'Karma' which is celebrated on the 11th day of a full moon of the Bengali month of "Bhadra".
The main food of Oraon is rice. They also eat maize, wheat, fish, meat, and a variety of vegetables.
The Oraon people have a rich range of folk songs, dances, and tales, as well as traditional musical instruments. Both men and women participate in dances, which are performed at social events and festivals. The Mandar, Nagara, and Kartal are the main musical instruments. Some Kurukh folk dances are war dances (between two Parhas), Karma dance, Khaddi or Sarhul dance, Phagu, Jadur, jagra, Matha, Benja Nalna (Wedding dance) and Chali (Courtyard dance).
Women traditionally wear a thick cotton sari with detailed stitched borders of purple or red thread. Traditional tattoos include elaborate symmetrical patterns around their forearms, ankles, and chest. Men wear a thick cloth with similar detailed borders as a dhoti and lungi.
Their living is based on agriculture. Originally, the Oraons relied on the forest and its goods for a economic livelihood. However, recently many have become settled agriculturists while others became migrant workers on tea estates.
Hope you get to know many things about them. Let me know your opinions through comment. And don't forget to give thumbs up if you like it. And subscribe. ☺☺