Every day, I talk with people using cryptocurrencies around the world. These discussions lead me to believe this is a critical moment that could push crypto adoption to new grounds.
We've witnessed a vast increase in investors in the last two years. It was hundreds of millions that entered the Cryptoverse for the first time. While this adoption was mostly speculative it was expected that most will enter just for profit.
The availability of crypto within popular investing mobile apps helped the prices explode and some coins that were advertised aggressively got the best of it.
Robinhood and Square, even PayPal, e-Toro, and Revolut, experienced tremendous interest in cryptocurrency investments. Perhaps a hundred million more were added as crypto holders within just one year.

We even had the Doge millionaire this year, a Robinhood investor that 10x'ed his 100k investment for a short time. Although, I don't know what his exact plan was, since he kept holding even after a 10x and didn't take any profit, waiting for his investment to reach $10 million first.
That would have taken a lot to happen, but there is always hope. And since the signs are there and he is still in profit, maybe holding and hoping is the best course of action.
Let's be frank, though. Was this bull run any fun so far? Beyond the Doge guy, I found this bull run to be dull. I joined in mid-2017, and there was class back then. Memes were at 200IQ levels, the jokes were never-ending, everyone was looking at a revolution and thinking that it was all possible.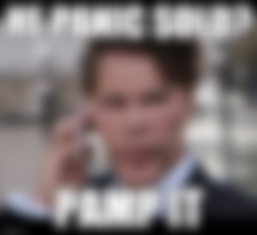 Without thousands of new memes and Crypto songs, I refuse to call this bull-run over!

To get in a serious mode, as usual, there are two sides to each story. As the crypto market keeps growing, the reaction from those that see their interests threatened will become more violent.
I've been a fierce critic of the BTC community throughout this El Salvador fiasco (it will turn out to be one) for a good reason, though.
Crypto is a radical financial system. It takes the power from the governments and the banking cartel and gives it to the people. Most of us joined for the financial aspect and we just wanted to make some good money. There were promises of extreme returns and still are. Some make it, but most don't.
After a while, we have to find out more about where exactly we invested in.
The moment we move our funds to a non-custodial wallet, and we learn about private keys, is the part where we totally comprehend what this "crypto thing" is all about.
What we invested in, is something so powerful that has the potential to reshape the financial establishment and create a healthy financial environment for competitive free markets, all by empowering the individual.
The financial freedom cryptocurrency provides is what made us stay and suffer two years of bear market and losses.
It doesn't matter if we bought the top of a bubble. Cryptocurrency markets are wild, but they are also free markets. What matters is to move the Bitcoin, Ethereum, BCH, even the Dogecoins we bought, out of the centralized platforms and into non-custodial wallets that ensure your financial freedom.
Sadly, El Salvador has forced the use of BTC, instead of voluntarily allowing it, and also forced LN custodial wallets like Strike and Chivo. BTC will only be used within these centralized, custodial, and government-regulated financial services in El Salvador.
I read comments of cheer and joy about the El Salvador Lightning decision, while there should be skepticism instead.
It changes nothing if we use BTC through a centralized wallet the government can easily turn off, and seize our funds. It is not any different from using the same-old banking finance.
The financial freedom cryptocurrency provides has been erased in El Salvador.

Most newcomers invested in crypto through platforms that don't even allow withdrawals. Correct me if I'm wrong, but I think that Robinhood, CashApp, Revolut, PayPal, and most similar investing platforms don't give access to crypto withdrawals. KYC is also now mandatory and while there are a few P2P exchanges, these are also facing issues by governments.
Although KYC wasn't the major issue here. I value privacy but it was already difficult to be anonymous when using cryptocurrencies (besides perhaps Monero and ZCash). The real problem is that new users that bought from these platforms will not be part of the crypto revolution.
Those investors are condemned to stay with fiat accounts, often speculating, but will never actually realize the true freedom crypto represents.
Crypto, has a high chance to reshape the financial system. It doesn't need to be forced or even allowed (regulated), we just have to understand the aspect of financial freedom Crypto provides and then will the positives outweigh the negatives.
***Originally published at Hive (Leo.Finance)***

Backpage
---
Images
Writing on: ● ReadCash ● NoiseCash  ● Medium ● Hive ● Steemit   ●Vocal ● Minds

email: pantera9999@protonmail.com