Mastering the trick of recovering from failure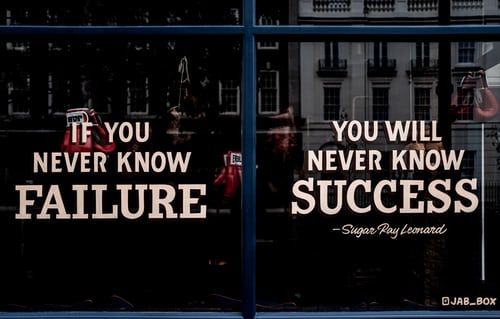 Failure sometimes can be pushy to give up, it's makes you feel like you don't deserve that thing in the first place and all you wanna do is to give up. It might look stupid or foolish to keep on trying and persisting on the same thing all the time but what if this is your last try? Just what if? That's the more reason why you have to keep on trying cause you never know when you will hit that jackpot. In order to get yourself together and recover from that failure, here are 8 things you can put into consideration to do which I know will go a long way in helping you bounce back to your feet.
Accept that failure is needed in your journey to success
There's a popular quote which says that "failure is like a stepping stone to success" which is very true. It's so impossible to be successful without ever failing before, it's might sound weird but it's just the irony of life. If you've understood that failure is part of success then you wouldn't be so much concerned anymore about failing. Abraham Lincoln failed right from when he was 21 years of age up until he was 52 years of age and that was when he achieved his first success. You can read more about him, you will learn alot from his story.
It is ok to cry when you have to, if you have to stay alone for some time just so you can reflect on your life, then do so. Do whatsoever you have to do in order to get better. Infact crying is a good mental therapy, cry your heart out, you will realize that you feel better after crying.
Learn from your mistakes and reflect on it
One thing you should realise is that for every failure made, there is always a lesson to learn from it. Be practical with yourself, ask yourself some important questions like what did I do in the wrong way? Was I suppose to have done this differently? How can I improve in the areas I did not do well? Asking yourself these important questions and many more questions relating to your source of failure will help you in order to improve yourself and know how to do it better the next time you try again.
Take action for your mistakes and never blame other people.
You have to learn to be able to take action for your mistakes, don't ever think it is because if someone's mistake that made you fail. It's true that sometimes when we fail, it looks as though that it is other people's fault and we would want to keep blaming them for our mistake but we should realize that we could have as well cover up for their mistakes through our success. To take for instance, it's always common for the choristers to blame the instrumentalist anytime they make mistakes, they feel like if the drummer had drum well enough or if the pianist has done better, the mistake from them might have been avoided which isn't so true. We've seen cases where the instrumentalist fucked up but that didn't stop the chorister, her glorious voice covered up the mistake of the instrumentalist. Majority of us are guilty of this and we have to stop it, it doesn't help us to get better.
Give up your need for approval
Looking into the causes of failure deeply, we would discover that the fear of failure is mainly caused by the fear of what people will say or the way they will judge you. I was also a victim of this for sometimes before I understood that you need no one's approval in your journey to success. If you don't do away with your need for people's approval, this will be limiting you to do great things because you will always be fearful to do new things because of your fear of failure.
Do not give room for pouting
Pouting is not a good approach to success, you have to be ready to talk to people about your problems. Never feel like keeping it within you and carrying a sad face all around will help the situation, it wouldn't help and it wouldn't affect anyone else but you. So you have to cheer up and talk to the right people about your failure.
Don't be too personal about your next goal
Do not take you goal too personal, it's very important to be goal oriented but too much of everything is bad. If you take your goal to personal that is you are already expecting so much from it, it will be so difficult to accept when you fail in it.
Never give up, get ready to start over
As long as you have practiced the steps listed above, then be ready to start over. Giving up isn't an option at all, it will only show how weak you are. It's very common to feel down anytime you fail and believe that people no longer have confidence in you because you have failed them, no do not ever think that way, all you have to do is to make them see the better version of you, make them realise that you can do better, work on your self and try again. NEVER GIVE UP!
After taking these steps and it looks as though it isn't working for you, you might want to consider trying other things, maybe the fault is in your goal. Consider changing your goal to a more realistic one because sometimes we might be doing what is not meant for us and that might be the cause of the failure. Try out something else, it's likely going to work out.
Published date: 19th of may, 2022
Published time: 12 : 22 pm (WAT)
Author: ©oyinwrites
Lead image gotten from unsplash