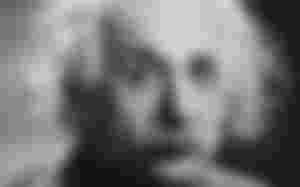 Albert Einstein formulated a special and general theory of relativity with which he revolutionized modern physics. In addition, he contributed to the progress of quantum theory and statistical mechanics. Although best known for the theory of relativity (especially for mass and energy equivalence E = mc²), he was awarded the Nobel Prize in Physics in 1921 for explaining the photoelectric effect (published in 1905 in the Annus Mirabilis or "Year of Miracles") and for his contribution development of theoretical physics. In the people, the name "Einstein" is a synonym for a man of high intelligence or a genius.
The subject of his research were capillary forces, special theory of relativity (which united the laws of mechanics and electromagnetics), general theory of relativity (generalization of special theory covering accelerated motion and gravity), cosmology, statistical mechanics, Brownian motion, critical opalescence, probability of electronic transitions in the atom, problems of probable interpretation of quantum theory, thermodynamics of light at low radiation density, photoelectric effect, photoluminescence, photoionization, Volt effect, secondary cathode rays, braking radiation, stimulated radiation emission, unified field theories, unification of basic physical concepts, etc.
Albert Einstein was born in Ulm, Germany, on March 14, 1879, as the first child of Herman and Pauline Einstein. When he was born, his parents were afraid that Albert would not be like all other children because his head was much bigger than his body. Doctors considered this disorder to be benign macrocephaly, due to which the boy will have difficulties in development. Despite that, Albert grew into a healthy boy, and this characteristic disappeared.
The Einstein family moved to Munich, where Albert attended elementary school and then the famous Luitpold High School. He was an average student, but very interested in mathematics and physics. He did not like high school classes because he was forced to learn lessons by heart and obey strict discipline. When he turned 15, he left school without any degree and moved with his family to Milan. To make up for his high school diploma, he enrolled in a school in Switzerland, which he attended from 1895 to 1896. After that, he went to study in Zurich. He wanted to get a degree and get a job as a professor of mathematics and physics. He successfully completed his studies in 1900.
After his studies, Einstein moved to Bern and got a job at the Swiss Patent Office. In his spare time, he studied the theory of physics. In 1905, he published several important scientific papers. The most significant of these is about the revolutionary theory of relativity. His work "Does the inertia of a body depend on its energy content?" contains its most famous formula E = mc² which claims that matter can be converted into energy. In the same year, he published a series of scientific papers entitled "Annals of Physics".
In 1903, Albert Einstein married Mileva Marić. A year later, the couple had their first son, Hans Albert, and in 1910 their second, Eduard. In 1909, Einstein became a professor at the University of Zurich. He was later a professor in Prague and then again in Zurich. In 1914, he was invited to do scientific research in Berlin, but then the First World War began.
1919. godine Ajnštajn se razveo od Mileve Marić i oženio svojom rođakom Elzom Lovental (rođenom Ajnštajn). Od 1909. do 1916. godine radio je na generalizaciji Specijalne teorije relativiteta. Nakon što je teorija i naučno dokazana u eksperimentu 1919. godine, Ajnštajn je preko noći postao poznat. Dobijao je pozive za svečanosti i počasti iz svih delova sveta. Nije postojao magazin koji nije pisao o njemu i hvalio njegov rad. Dobio je Nobelovu nagradu iz oblasti fizike 1921. godine.

In 1906, Einstein was promoted to second class technical examiner. In 1908, he received a license to work in Bern, Switzerland, as a private assistant professor (Privatdozent) (unpaid teacher at the university). During that time, Einstein described why the sky was blue in his work on the appearance of critical opalescence, which showed the cumulative effects of light scattering on individual molecules in the atmosphere.
In 1911, Einstein first became an associate professor at the University of Zurich, and soon after that a full professor at the German-speaking section of Charles University in Prague. While in Prague, Einstein published a paper urging astronomers to test two predictions of his still-developed General Theory of Relativity, which is the bending of light in a gravitational field, measurable during a solar eclipse, and the gravitational redshift of the Sun's spectral lines. in relation to the corresponding spectral lines produced on the surface of the Earth. The young German astronomer Erwin Freundlich begins a collaboration with Einstein and alarms other astronomers around the world about these Einstein astronomical checks.
In 1912, Einstein returned to Zurich with the intention of becoming a full professor at ETH Zurich. At that time, he worked closely with the mathematician Marcel Grossman, who introduced him to Riemann geometry. In 1912, Einstein began to call time the fourth dimension (although Herbert George Wells did the same earlier, in his 1895 work The Time Machine) In 1914, just before the outbreak of World War I. Einstein settled in Berlin as a professor at a local university and became a member of the Prussian Academy of Sciences. He takes Prussian citizenship. From 1914 to 1933, he was director of the Kaiser Wilhelm Institute of Physics in Berlin. He also retained the position of associate professor at Leiden University from 1920 to 1946, where he regularly gave guest lectures.
In 1917, Einstein published "On the Quantum Mechanics of Radiation", or in the original, "Zur Quantentheorie der Strahlung", Physkalische Zeitschrift 18, 121-128. This article introduces the concept of stimulated emission, a physical principle that enables the amplification of light in a laser. Also in the same year, he published a paper in which he used the General Theory of Relativity to build a model of the entire universe, thus preparing the stage for the emergence of modern physical cosmology. In that work, he also introduces the well-known cosmological constant, which he later, as George Gamow claims, called in one of their conversations "the biggest blunder of his life".
On May 14, 1904, Albert and Mileva's first son, Hans Albert Einstein, was born. Their second son, Eduard Einstein, was born on July 28, 1910. Hans Albert would later become a professor of hydraulic engineering at the University of California, Berkeley, having very little contact with his father, but sharing his love of sailing and music. . The younger brother, Eduard, wanted to develop the practice of a Freudian psychoanalyst, but he was institutionalized due to schizophrenia and died in an asylum. Einstein divorced Mileva on February 14, 1919, to marry Elsa Löwenthal, née Einstein, (Lovental was the surname of her first husband, Max) on June 2, 1919. Elsa was Albert's first cousin and his cousin in the second generation on his father's side. She was three years older than Albert, and nursed him as a nurse, after suffering a partial nerve breakdown combined with severe abdominal pain. There were no children in this marriage.
Due to the political situation in Nazi Germany, Einstein left the country in December 1932 and never set foot in it again. Since 1933, he has lived in Princeton, United States, with his family. He finds ideal working conditions at the Institute for Advanced Studies. In December 1936, his wife Elsa died, and three years later World War II began. Fearing that Germany was working on atomic bombs, Einstein wrote to President Roosevelt to warn him of the danger of atomic weapons.
He spent the last years of his life in Princeton. He worked hard on a new theory, the Unified Field Theory, which unfortunately was not successful. Albert Einstein passed away on April 18, 1955, at the age of 76, and he left behind over 50 significant scientific papers that changed the world of physics.